David Torrence to Defend Falmouth Mile Title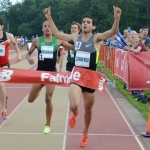 August 03, 2013
Top fields expected including 2011 race champion and event record holder Jordan McNamara, Will Leer, Matthew Elliott and Garrett Heath and Gabriele Anderson, Heather Kampf and Sarah Brown; past wheelchair champions also return to defend titles; 12th stop on the inaugural Bring Back the Mile Tour 2013
From Falmouth Road Race
FALMOUTH, Mass. – This year's elite Falmouth Mile promises to be an exciting event on Saturday, August 10, 2013 at 7:00pm at the Falmouth High School track. There will be three races starting with the Tommy Cochary High School Mile that is stacked with stellar high school athletes, followed by the wheelchair and elite races. The Falmouth Mile is the 12th stop on the nationwide inaugural Bring Back the Mile Tour 2013.
In the men's field, it will be a fierce competition with 2012 race champion, David Torrence (above right), who finished with a time of 3 minutes, 55.79 seconds, taking on 2011 champion and course record holder Jordan McNamara who clocked 3:54.89 at Falmouth. These two have met recently at the Emsley Carr Mile where McNamara edged Torrence, 3:52.42 to 3:52.74. The pair will be joined by rising star Garrett Heath, who finished third last year in his Falmouth debut and is coming off his personal record of 3:53.15 at the Emsley Carr Mile. Other returning runners include Jack Bolas, Matthew Elliott, Will Leer and Craig Miller, who placed 4th at Falmouth last year. Making his Falmouth Mile debut this year is recent Arkansas grad Duncan Phillips.

Top women's contender, Gabriele Anderson, who ran here in 2012 (runner-up, 4:27.94), 2011 (4th, 4:33.57) and 2010 (runner-up, 4:46.27) returns after a season full of PRs including her 8:42.64 for second place at the IAAF Diamond League 3000m. She faces tough competition from Team USA Minnesota teammate Heather Kampf, who makes her Falmouth debut with a Mile PR of 4:27.8. Kampf placed 6th at the USA Outdoor Championships 800m this year and was the 2012 USA Road Mile champion. Others to watch are Sarah Brown, who finished 4th last year in 4:31.40 and Katie Mackey, who won the 2013 USATF Oxy High Performance 1500m with a time of 4:04.60 and finished 9th in the 1500m and 8th in the 5000m at the recent USA Outdoor Championships. Stephanie Garcia, Ashley Miller, Aisha Praught and Sara Vaughn return to compete while Heidi Gregson debuts at the race.
Former Mile world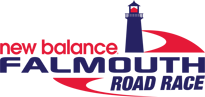 record holder, Craig Blanchette and defending race champion Krige Schabort, lead the men's wheelchair Mile field. Last year's Mile champion, Jill Moore from the University of Illinois, will take on Jessica Galli Cloy who will be competing in her first Falmouth Mile. Chelsea Crytzer will again compete in the women's Mile All wheelchair racers will compete the next day as well where the battle is expected to be between six-time champion Galli Cloy and defending champion Moore.
To learn more about the New Balance Falmouth Road Race and Mile, visit www.falmouthroadrace.com, follow us on Twitter @runfalmouth or become a fan on Facebook.com/falmouthroadrace.