Uceny, Grunewald, Torrence, True Headline Falmouth Mile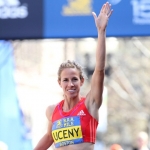 August 12, 2014
Saturday night race features Olympians, USA & NCAA champions and a former World #1; $7500 prize purse plus time and meet record bonuses
FALMOUTH, Mass. – Morgan Uceny, a 2012 Olympian ranked #1 in the world in 2011 at 1500 meters; Gabriele Grunewald, the reigning USA Indoor 3000m champion; David Torrence, a three-time USA Road Mile champion and 2012 Falmouth Mile champion; and Ben True, a five-time USA road-race champion who last year was runner-up in the New Balance Falmouth Road Race, headline the field for the Falmouth Mile, organizers have announced.
The Falmouth Mile, which also includes wheelchair and youth Miles as well as the Tommy Cochary High School Mile, will begin at 5:00pm Saturday, August 16, at the James Kalperis Track at Falmouth High School. Admission is free.
Owning the meet records are 2011 winner Jordan McNamara (3:54.89) and 2002 champion Suzy Favor Hamilton (4:25.27). Winners of the event, which began in 1995, have also included Kevin Sullivan, Jonathon Riley, Jason Pyrah, Brenda Martinez, Carrie Tollefson and Juli Henner.
In his 2011 victory, McNamara, who recently won the GNC Live Well Liberty Mile, led the way for 10 men to break 4 minutes. He returns this year, as do 2009 Falmouth Mile champion Will Leer, who last month ran a personal best 3:51.82 at the Morton Games Mile in Dublin, Ireland, to break a 34-year-old meet record; and Garrett Heath, the 2013 USA Road Mile champion, who this past Sunday clocked a 3:53.61 Mile in Michigan.
They will be challenged by Donn Cabral, a 2012 Olympic steeplechase finalist; Kyle Merber, whose 3:35.59 in 2012 is the fastest collegiate 1500 meters ever run by an American; Cory Leslie, who holds records in several states for the fastest Mile run on their soil; and Danny Stockberger, who had an All-American career at the University of Indiana.
Making his Mile debut on the track will be Sam Chelanga, a four-time NCAA champion and NCAA 10,000m record-holder who trains with True in Hanover, NH.
On the women's side, Uceny and Grunewald will meet Katie Mackey, the Falmouth Mile defending champion and a seven-time NCAA All-American, and Sarah Brown, a four-time NCAA champion who won the 2014 Harry Jerome Mile in a personal record 4:26.67.
Those four will face Brie Felnagle, the 2007 NCAA 1500m champion; Amanda Eccleston, a 2013 NCAA Indoor champion in the distance medley and 2014 USA Outdoor finalist at 1500 meters; Stephanie Garcia, who finished third in the 3000m steeplechase at the 2014 USA Outdoors; Aisha Praught, who placed fourth in the same event; and Australia's Heidi Gregson, the 2014 national championships runner-up at 1500 meters, who recently ran a 4:34 Mile in North Carolina.
The event also offers $7500 in prize money that goes 4 deep with $2000 to each Open race champion plus there are time (sub-3:58 for men and sub-4:32 for women) and meet record bonuses.
The Falmouth Mile is also a Bring Back the Mile Featured Event, showcasing the best Miles across the country and throughout the year.
For more information on the Falmouth Mile or on the 42nd running of the New Balance Falmouth Road Race, which will begin at 9:00am on Sunday, August 17, 2014, visit: www.falmouthroadrace.com