Gabriele Grunewald remembered as she lived her life: Running for hope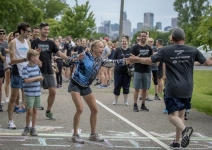 June 18, 2019
"Gabe would have loved this. The rainbows are out. The sky has cleared. This is the kind of big, Technicolor run she dreamed of."
By Rachel Blount, Star Tribune staff
No matter what was happening in Gabriele Grunewald's life, running was her North Star. Taking to the trails never failed to soothe her fears, ease her pain, amplify her strength or nourish her soul.
As the former Gophers runner was laid to rest Monday, running served the same function for those she left behind. Following Grunewald's funeral mass at the Basilica of St. Mary, about 150 mourners assuaged their sorrow in the place where they knew they would feel Gabe's spirit: on an asphalt path, just down the hill from her grave site.
"Gabe could get through all of her hard times, because she always had running," said Grunewald's sister, Abigail Anderson (photo, below). "And it's something I've turned to when I don't know what else to do. It's been a comfort for all of us, and a way to channel all these emotions."
Grunewald, 32, died Tuesday after a decade of fighting a rare cancer. Her friends, family and admirers paid tribute by running or walking 1.405 miles — her favorite number — on the Minneapolis Diagonal Trail along the edge of Hillside Cemetery, where she was buried.
The wide impact of Grunewald's life was reflected in the people who came to honor her.
HGTV stars Chip & Joanna Gaines were among those who ran, as were 2018 Boston Marathon champion Des Linden and 2012 Olympian Alysia Montaño. They were joined by many of Grunewald's former Gophers teammates, members of the local running community and relatives and friends from her hometown of Perham, Minn.
In the final 10 years of her life, Grunewald became known around the world for her courage and hopefulness in the shadow of a terminal illness. Her death has been grieved globally, too.
Her husband, Justin Grunewald, has received messages of sympathy from six continents, and memorial runs have been held around the country.
Continue reading at: startribune.com