Hail & Farewell, Bernard Lagat!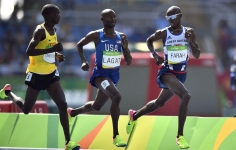 October 31, 2016
My kids were crying and I was crying too. I saw them and I said, 'I'm going to make it in that 5000m just for these guys.'
By Sieg Lindstrom, Track & Field News
With 5 Olympics and 2 medals plus 5 World Championship titles outdoors and indoors won, Bernard Lagat, who will turn 42 in December, has called it a track career.
And what a career it was. Superbly high quality and replete with tactical genius, the résumé of the Washington State alum—coached by James Li since he first set foot in Pullman 20 years ago has been marked by a propensity to be in the right place at the right time to win races as well as first-class sportsmanship even on the occasions the biggest prizes eluded him.
When he placed 5th in the Rio 5000, Lagat made history as the oldest man to ever reach an Olympic 5000 final.
To whom did the previous age-standard belong? Lagat, who placed 4th at London 2012 at 37.
You will still see Lagat's name in road results over the next year; his plan is to ease out of competition on the macadam, and (spoiler alert!) he has not 110% ruled out having a go at the U.S. team for London 2017 next year if mind and body sway him. His agent since 1999, James Templeton, has suggested he consider it.

From the beginning of Lagat's post-NCAA career, Templeton saw in the young then-Kenyan, whom he and other friends call Kip, gold-standard drive.
Continue reading at: www.trackandfieldnews.com