Heather Kampf 3-Peats, Sets Event Record at Ryan Shay Mile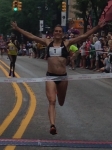 July 26, 2014
Rob Finnerty wins men's Mile at 7th edition; third stop on the Bring Back the Mile Grand Prix Tour 2014
By Jeff Hartnagle
CHARLEVOIX, Mich. – Heather Kampf again showed why she is The Queen of the Road Miles with a three-peat performance and event record 4:21.39 clocking at the 7th Ryan Shay Mile on Saturday morning, while Rob Finnerty claimed the men's title in 3:56.98. The event was also the third stop on the Bring Back the Mile Grand Prix Tour 2014.
Team USA Minnesota's Kampf, 27, led the deepest field at this point-to-point road Mile as four other women were also under Kampf's old course record (4:30.9) from 2013 with Cynthia Limo of Kenya taking second followed by Amanda Eccleston, Kristen Findley and then Shannon Osika. Limo took the field through the first half mile with Kampf staying close and using a strong finish to take her third event crown.
Post-race Kampf tweeted: "It took a 4:21 to capture a 3-peat victory at the Shay Mile! Grateful to run a great race to honor an amazing athlete."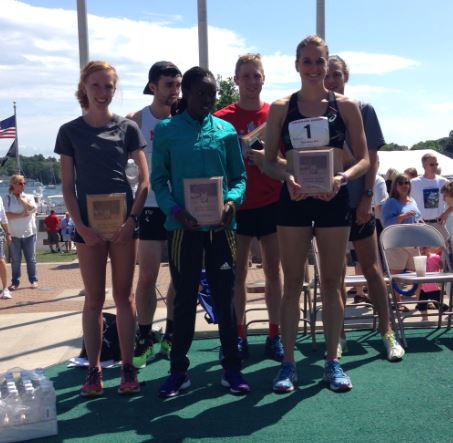 In the men's race, Furman Elite's Finnerty, 24, also finished strongly in the final stretch to pull two others under the coveted 4 minute barrier. Daniel Stockberger, a veteran of the Shay Mile, had his best performance yet in claiming second with a time of 3:58.53, and Ryan Cunningham took the last podium spot in 3:59.86. Tony Filipek led the field through the first half of the race to pick up the $250 halfway prem and to set up the field for fast times.
The Ryan Shay Mile started in the summer of 2008 to honor the memory of Ryan Shay. Ryan passed away on November 3, 2007 while competing in the 2008 U.S. Olympic Marathon Trials in New York City. Ryan was from Central Lake, Michigan about thirty minutes south of Charlevoix. A talented runner, who through hard work and persistence, won numerous championships in high school, while in college in Notre Dame, and as a professional. Ryan was and is a role model for many young people in Northern Michigan and around the country.
7th Ryan Shay Mile
Bring Back the Mile Grand Prix Tour 2014
Charlevoix, MI, Saturday, July 26, 2014
MEN
1) Rob Finnerty (SC), 3:56.98, $1000
2) Daniel Stockberger (IN), 3:58.53, $500
3) Ryan Cunningham (PA), 3:59.86, $250
4) Tom Scott (OH), 4:05.01
5) Peter Mwololo (KEN), 4:08.39
6) Tony Filipek (MI), 4:09.48, $250#
7) Sean Smith (IL), 4:32.22
#halfway prem bonus
WOMEN
1) Heather Kampf (MN), 4:21.39*, $1000
2) Cynthia Limo (KEN), 4:24.61, $750#
3) Amanda Eccleston (MI), 4:25.78, $250
4) Kristen Findley (TX), 4:30.26
5) Shannon Osika (MI), 4:30.62
6) Melissa Salerno (NY), 4:32.45
7) Christy Cazzolo (WI), 4:33.97
8) Annie Wanjiru (KEN), 4:35.78
9) Danielle Tauro (MI), 4:47.68
10) Jane Njeri Kang'ara (KEN), 4:57.59
*course record (previous record, 4:30.9, Heather Kampf (MN), 2013)
#includes $250 halfway prem bonus
Visit www.venetianraces.com for more information.