How long before a woman runs a sub-4 minute Mile?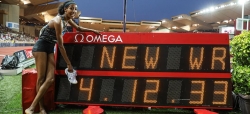 May 16, 2020
In the 66 years since the sub-4 door was opened, more than 1,500 male athletes have run a sub-4 minute Mile, while just 109 women have run 1500 meters in less than four minutes.
By Sonia O'Sullivan, The Irish Times
It's over 30 years now since I ran my first competitive Mile race. Back in 1989, to be exact, my second year at Villanova, and during my first indoor season.
All our training back then was measured in miles, the distance and the pace, so I always had a feeling for the times we were running anyway. From my running diary of 1986, most of my training runs were at 7-minute Mile pace, and repeat miles were done close to 5-minute Mile pace.
Only last week on the 66th anniversary of the first ever sub-4 minute Mile for me did I realize that 23 days after Roger Bannister's widely recognized and revered athletics breakthrough, in May of 1954, British athlete Diane Leather became the first ever women to run under 5 minutes for the Mile.
At the time this was an equally sought after achievement among women's distance runners, even though world records in the 1950s for women were not recognized beyond 880 yards.
With no competitive running to think about right now, that got me thinking further. It took 13 years, up to 1967, before the fastest women's Mile was ratified as a world record by the IAAF, when British athlete Anne Rosemary Smith ran 4:37.0 in London.
Six years later, Paola Pigni-Cacchi of Italy ran 4:29.5, the first woman under 4:30 for the Mile, and possibly a more comparable mark for women to the iconic 4-minute Mile for men.
Still it doesn't hold the same allure or acclaim for women, and maybe never will. The closest thing for women is possibly the sub-4 for 1500 meters, although in the context of things it would appear a lot more difficult for a woman to run sub-4 minutes in the 1500m than a man to run a sub-4 minute Mile.
There have been plenty of raging debates and analysis among athletes down through the years, but with so many variables it's difficult to find that same sub-4 moment for women.
To me it seems quite far-fetched to think a woman could ever break 4 minutes for the Mile. The current world record of 4:12.33 was set just last year by Sifan Hassan, the Dutch runner born in Ethiopia, which means a sub-4 Mile would require an improvement of over three seconds per lap. That's not going to happen fast.
If the men's record was to improve at the same rate of progression in line with the women's progression since 1954, then for a woman to break 4 minutes for the Mile, a man would need to be running around 3:36. That's not going to happen fast either – the current men's Mile world record of 3:43.13 still holding from 21 years ago, Hicham El Guerrouj from Morocco clocking that in 1999.
Continue reading at: irishtimes.com
Mile world record progression HERE.