How to Run a Mile as Fast as Possible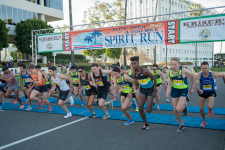 November 24, 2020
Three key workouts for speed & endurance to produce your best Mile
By Edward Lane, Men's Health
One of the most effective ways to train – and one of the most beneficial for your physical and mental health – is mastering the Mile.
"The Mile is an amazing blend of speed and endurance, and a good indicator of your overall cardiovascular health," says Danny Mackey, head coach of the Brooks Beasts, an elite pro track team. "You can hammer it, and because it doesn't take long to recover, you can run it again soon to see how much you've improved. You can't say that about a marathon, where most people are just trying to finish."
Even better, Mackey says you'll notice yourself getting faster in three weeks. While a typical in-shape guy can run a Mile in 10 minutes, running one in 6:30 is where the bragging rights really lie. (The world record stands at 3:43.) Here's exactly how to get after it.
3 Key Workouts to Run Your Fastest Mile
To incinerate your current Mile PR, tackle each of the following workouts from Mackey every week for 8 weeks. Order doesn't matter, as long as you're taking a day off in between workouts to give your body time to absorb your gains and recover.
Workout #1: 200 meter repeats
Run 200 meters // Rest // Repeat 10 times
Run these repeats at a pace that's 2 to 4 seconds faster than your usual Mile pace. However long it takes you to run one, rest for three times that long before the next repeat. (If you do the 200 in 45 seconds, take a 2:15 rest.) Run the tenth effort as fast as the first.
The Why
Sprints build the muscle strength and power it takes to hold speed over the entire Mile, and doing them in this repeating format will help you dial in your form.
Continue reading at: menshealth.com