Hundreds of Students Run 9,380 Miles During 'March Mile Madness'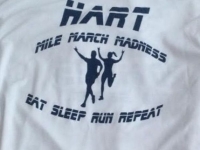 March 31, 2017
Their reward? A pizza party, shirt and the gift of understanding their own true grit.
By Autumn Johnson, Pleasanton Patch
PLEASANTON, CA — More than 469 middle school students and 22 staff members are coming down from a runner's high after successfully completing the third annual March Mile Madness running challenge at Hart Middle School in Pleasanton this month. The goal is to run 20 miles in 20 days. It sounds simple enough, but the rules are very strict. Break a rule, and you do not complete the event.
"Students must run the Mile on the Hart track for 20 school days in a row, no exceptions, no makeups, no absences," teacher Willie Brown told Patch via email. "It's a perfect attendance award as well."
According to Brown, of the 700 students who started the run, 469 successfully completed the challenge. More than 20 staff members joined in again this year. Students who missed running due to illness, appointments or field trips had to make arrangements to make up the Mile before school, after or during lunch in order to stay in the race to the finish line.
Continue reading at: www.patch.com