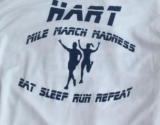 March 31, 2017
Their reward? A pizza party, shirt and the gift of understanding their own true grit.
By Autumn Johnson, Pleasanton Patch
PLEASANTON, CA — More than 469 middle school students and 22 staff members are coming down from a runner's high after successfully completing the third annual March Mile...
Read More
comments