Hurt, Hiltz Kick to Victory at USATF 1 Mile Road Championships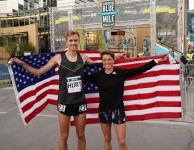 April 23, 2019
At Grand Blue Mile, event and championship record for Hiltz, men's photo finish; $27,500 prize purse awarded; also first stop on BBTM Grand Prix Tour presented by Running Warehouse
Contributed by Scott Bush, USATF, and Drake Athletic Communications
DES MOINES, Iowa – Deep fields led to fantastic finishes at the USATF 1 Mile Road Championships Tuesday evening in downtown Des Moines, as rising stars Tripp Hurt and Nikki Hiltz each claimed their first national title on the third stop of the 2019 USATF Running Circuit, hosted by the 10th Grand Blue Mile.
As in years past, the men's race got out to a modest start, allowing most of the field to stick together through the first half of the race. Veteran Will Leer took over the early pacing duties, with Harun Abda closely in tow up front.
Leer started to drop back shortly after the halfway point, while nearly ten others were still in contention. With a quarter mile to go, the field was still tightly packed, with Daniel Herrera, Kyle Medina and Abda leading the charge.
None of the runners in the field made a decisive move until 200 meters to go, when Medina, Brandon Lasater and Hurt all pushed to the finish. Nick Harris and Jake Edwards also ran stride-for-stride with the lead trio, making it a thrilling sprint in the final meters.
At the finish, it was Hurt, Lasater and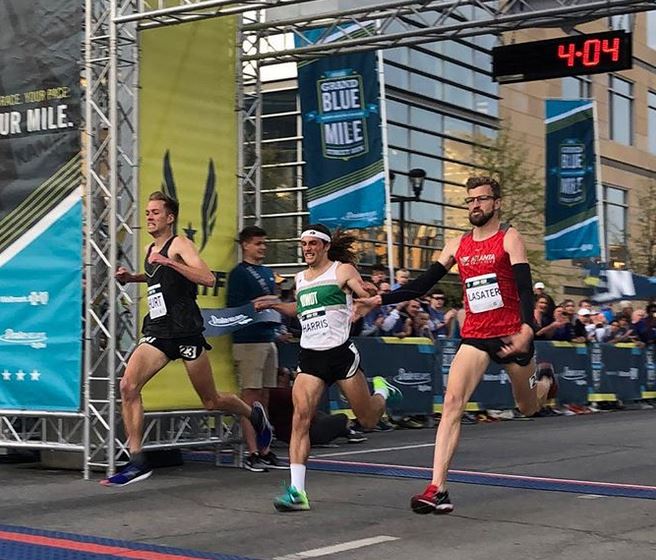 Harris, three abreast, seemingly all finishing in the same time, but it was Hurt, 26, a Boulder, CO resident, being draped with the American flag, claiming his first national crown in 4:03.9.
"My teammate, Nick [Harris], was next to me and I was thinking we needed to battle and hope one of us got it," Hurt said of the sprint to the finish (photo, far left). "My goal was to stay patient and wait as long as I could to make a move to the front. It paid off."
Lasater and Harris finished second and third, both crossing the finish in 4:04.0, while Edwards and Herrera also broke 4:05 with fourth and fifth place performances in 4:04.5 and 4:04.9. All of the top ten finishers finished less than two seconds back from Hurt.
In the women's race, Hannah Fields and Shannon Osika led the race early, establishing the pace and maintaining relaxed forms up front.
As the field moved through the street of Des Moines, Fields and Osika continued to set the tone, with nearly ten women in the lead pack as they moved through the halfway point.
As the runners moved into the third quarter mile, Fields, Osika, Heather Kampf, Anna Shields and Hiltz established themselves as the final five, pulling away from the rest of the field.
With just over a quarter mile to go, Kampf, a 4-time USATF 1 Mile Road Champion, shot to the lead and started her drive to the finish. Kampf, the three-time Grand Blue Mile champion and event record holder, kept her lead until 200 meters to go, when Hiltz, 24, was able to pull up on her shoulder and make her own move, one that wouldn't be covered by anyone the rest of the way.
Hiltz, who live and trains in San Diego, continued to pull away, stride-by-stride, ultimately crossing the finish with a joyous smile on her first, claiming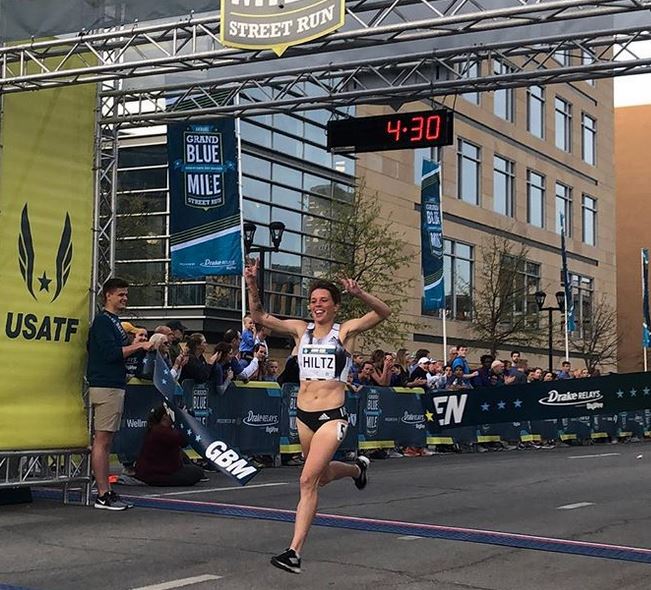 her first national title in 4:29.7, an event and USA Championship record.
"It's not just a road race, it's the USA Road Mile Championship and it's my first national championship win," Hiltz said. "It was awesome and the field definitely gave me a run for my money. We got after it and I knew in the last straightaway we'd switch into a new gear. No one made it easy."
Kampf maintained form over the final stages of the race, earning yet another top three performances, grabbing second in 4:31.4. Fields ran a great race to nab third in 4:32.2, while Osika and Shields earned fourth and fifth, clocking 4:33.4 and 4:36.4.
Overall, the Grand Blue Mile awarded a $27,500 national championship prize purse, including $5000 for Tripp and Hiltz as national champions and Hiltz also earned an $2500 addition for the event record bonus.
10th Grand Blue Mile: USA Championships
BBTM Grand Prix Tour 2019 presented by Running Warehouse, first stop
Des Moines, IA, Tuesday evening, April 23, 2019
MEN
1) Tripp Hurt (CO), 4:03.9, $5000
2) Brandon Lasater (GA), 4:04.0, $2500
3) Nick Harris (CO), 4:04.0, $1500
4) Jake Edwards (OH), 4:04.5, $1250
5) Daniel Herrera (LA), 4:04.9, $1000
6) David Elliott (ID), 4:05.2, $500
7) Mike Marsella (MA), 4:05.3, $300
8) Joe Coffey (MN), 4:05.7, $200
9) Kyle Medina (CO), 4:05.4, $150
10) Julius Bor (CO), 4:05.8, $100
WOMEN
1) Nikki Hiltz (CA), 4:29.7*, $7500+
2) Heather Kampf (MN), 4:31.4, $2500
3) Hannah Fields (OK), 4:32.2, $1500
4) Shannon Osika (MI), 4:33.4, $1250
5) Anna Shields (PA), 4:36.4, $1000
6) Rebecca Mehra (OR), 4:38.3, $500
7) Maddie Van Beek (ND), 4:40.6, $300
8) Alex Wilson (IA), 4:40.8, $200
9) Grace Barnett (CA), 4:41.7, $150
10) Ashley Stinson (CO), 4:42.9, $100
*event record (previous record, 4:32.7, Heather Kampf (MN), 2014) and USA Championship record (previous record, 4:30.8, Sara Hall (CA), Medtronic TC 1 Mile 2011)
+includes $2500 event record bonus
Complete results, go to: grandbluemile.com
BBTM Grand Prix Tour 2019 presented by Running Warehouse standings & update HERE.