Ingebrigtsen's eternal quest for improvement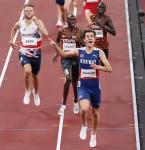 March 13, 2023
"The main goal is just to see how fast I can run and to try to win as much as possible as often as I can, when I can. But the short-term goal always changes. It's always to win the next race or break that record or something."
By Mike Rowbottom for World Athletics
Following the successful defense of his 1500m title at the European Athletics Indoor Championships in Istanbul, Norway's 22-year-old Jakob Ingebrigtsen was asked to describe his ambition.
"My main goal is to become the best runner that ever existed," said the athlete who has already accrued Olympic, world and multiple European gold medals as well as a indoor 1500m world record. "To do that, I will need to win more races and the next one is tomorrow."
Guess what? He won that race too, a 3000m heat. And the following day he won the next one, the 3000m final, to repeat the double he achieved at the 2021 edition of the championships in Torun.
Such is Ingebrigtsen's range of talent – he already has many global and continental medals at distances ranging from 1500m to 5000m as well as successive European cross country titles – that such a statement of intent is something to be taken very seriously. As seriously, indeed, as this prodigious young talent takes his athletics.
There is no false modesty in Ingebrigtsen's statements – nor unseemly pride.
His achievements have already been extraordinary since he emerged as one of the sport's most startling talents aged 16, becoming the youngest man in history to run a Mile in less than 4 minutes and also setting a European U20 record of 8:26.81 in the 3000m steeplechase in his first attempt at the distance.
His latest flourishes may have taken place on the grey track of the Atakoy Arena but the victories were rooted in an earlier contest – the World Athletics Indoor Tour Gold meeting in Lievin on February 15.
There Ingebrigtsen, having missed more than a month of training due to a viral infection, put himself through the single test that would tell him whether he would be best to defend his European indoor titles in Turkey or give them a miss and concentrate on the outdoor season – where he will seek to win a first world 1500m title in Budapest and, perhaps, defend his 5000m title.
And after winning in 3:32.38, the fastest time in the world this year, the Norwegian went away with a glint in his eye. It was all he needed. He knew he was ready.
And so it proved as he held off the challenge round the final bend of Britain's Neil Gourley – who set a British record of 3:32.48 this season – to win his second European indoor 1500m title in a championship record of 3:33.95 before outclassing the field to win his third indoor 3000m gold in a Norwegian record of 7:40.32.
Before the 3000m final Spain's Adel Mechaal, who won this event in 2017, essayed the hope that if Ingebrigtsen was going to prove to have a weakness after missing so much training, it would be most evident in his fourth race in as many days.
But there was no weakness. Ingebrigtsen led virtually from gun to tape. And he reflected afterwards with characteristic honesty.
Continue reading at: worldathletics.org