Jabaz, Van Der Wyk Win HOKA ONE ONE State Street Mile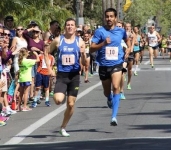 June 07, 2015
Josh Helton & Bro crush Dog Mile course record with a 4:15 WR clocking; 16th edition draws event record of more than 1,000 participants; race proceeds go to District Attorney's Crime Victim Emergency Fund
By Ryan Lamppa, Mile wire
SANTA BARBARA, Calif. – On Sunday morning, Jorge Jabaz of Anaheim and Tracee van der Wyk of Temple City, Calif. won the 16th HOKA ONE ONE State Street Mile, clocking 3 minutes, 54 seconds and 4:33 respectively, over the gradual downhill, point-to-point course in beautiful downtown Santa Barbara. Van der Wyk, 23, also tied the women's course record.
"What a great day for the annual State Street Mile from the divisional races to the festive Family Mile to the fast Elite Miles to the always fun, tail-wagging Dog Mile," said race director Megan Rheinschild. "We thank our title sponsor HOKA ONE ONE, our volunteers and everybody who made our 16th edition, with an event record of more than 1,000 participants, so special."
In the men's Elite Mile, the large pack hit the halfway point in a conservative 1:59 before picking up the pace with a 3/4 quarters split of 3:56. Jabaz bided his time before making a strong move with 200 meters left and the Concordia University-Irvine grad and now distance coach held off runner-up Daniel Herrera, 22, of Pico Rivera, Calif., both timed in 3:54. Overall, four men went sub-4 minutes (also Scott Smith and Scott Bauhs, 3:56 and 3:58).
"The early pace was a bit slower than I expected, but knowing the course helped me gauge my kick," said Jabaz, 28, who had finished 7th in the 2013 race. "For sure, this is the biggest win of my career; it means a lot to me to win the State Street Mile."
The women's Elite race was also closely contested. 2013 race champion Katja Goldring and Valerie Sanchez took it out below course record pace (4:33). Van der Wyk, a Pasadena City College graduate, was fourth at the half-mile (2:17), about three seconds back, with Ann Dunn third. She tailed Dunn until kicking hard with 100 meters left to pull away for the win in 4:33 followed by Dunn, 29, from Norman, Okla., in 4:34 and Goldring took third (4:36).
"I wasn't feeling too good at halfway so I just followed the top women and tried to run a smart race. I saw the clock at the end and remembered the course record, but it was too late to break it," said van der Wyk, a morning entry, who drove up from Los Angeles and yesterday ran the 800 and 1500 meters at the Jim Bush Track & Field Championships meet.
In the Masters races (40 & older), Alan Jackson, 40, from Los Osos, Calif. and Nancy Thomas, 45, from San Francisco, won overall titles in 4:28 and 5:13, respectively. Goleta's Mark Fennell, 54, clocked a 4:38 as the top age-graded Masters (94.59%) for the second straight year, while Fran Finney, 60, of Santa Barbara ran 6:03 to score as the top female age-graded Master (94.35%); both took home $175.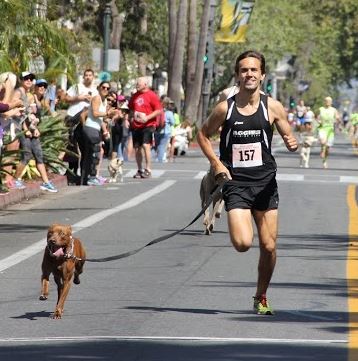 The Dog Mile, the unofficial world championship, again did not disappoint as San Luis Obispo's Josh Helton and his dog Bro (pitbull and lab mix) crushed the course record of 4:22 by Matt Johnsrud & Charlie in 2008 with an amazing 4:15 performance and likely Dog Mile world record. Second human & dog (Brian Duff & Kaydon) were also under the old mark, busting out a fast 4:19. Nancy Thomas from San Francisco, the women's Masters winner, came back with her friend's dog Harper for the female victory (5:56).
Divisional race records were set by:
14 & Under
Joshua McGregor, 14, Santa Barbara, CA, 4:31
Brianna Valles, 13, McFarland, CA, 5:10
50-59
Kimberly Hazard, 51, Santa Ynez, CA, 5:42
Under first overcast and then sunny skies, race day kicked off at 8:00am with seven age group categories (14 & under, 15-19, 20-29, 30-39, 40-49, 50-59, 60-plus) followed by the community Family Mile, the Elite Miles and capped off with the crowd-pleasing Dog Mile.
In addition, a State Street Mile record of $5700 was awarded to the top Open and Masters (40-plus age-graded) runners with $1000 to the overall race champions: Jabaz and van der Wyk. The event was also part of the local SBAA Grand Prix and Junior Grand Prix Series.
All proceeds will go directly to the District Attorney's Victim-Witness Assistance Program's Crime Victim Emergency Fund.
The HOKA ONE ONE State Street Mile is also a Bring Back the Mile Featured Event, showcasing the best Miles in America and throughout the year.
16th HOKA ONE ONE State Street Mile
Santa Barbara, CA, Sunday, June 7, 2015
MEN
1) Jorge Jabaz (CA), 3:54, $1000
2) Daniel Herrera (CA), 3:54, $750
3) Scott Smith (CA), 3:56, $500
4) Scott Bauhs (CA), 3:58, $250
5) Tommy Schmitz (CA), 4:00
6) Kyle Medina (CA), 4:00
7) Derek Thomas (CA), 4:00
8) Nick Scarpello (CA), 4:01
WOMEN
1) Tracee van der Wyk (CA), 4:33*, $1000
2) Ann Dunn (OK), 4:34, $750
3) Katja Goldring (CA), 4:36, $500
4) Valerie Sanchez (CA), 4:38, $250
5) Bethany Blomquist (CA), 4:47
6) Arielly Conde (CA), 4:48
7) Diane Heiser (CA), 4:49
8) Jill Himlan (CA), 4:52
*tied course record (4:33, Melissa McBain, 2005, and Tara Erdmann, 2012)
MASTERS MEN (40 & older) – age-graded
1) Mark Fennell, 54, CA, 4:38 (94.59%), $175
2) Nash Jimenez, Jr., 66, CA, 5:11 (93.93%), $100
3) Fred Mellon, 54, CA, 4:54 (89.45%), $75
MASTERS WOMEN (40 & older) – age-graded
1) Fran Finney, 60, CA, 6:03 (94.35%), $175
2) Nancy Thomas, 45, CA, 5:13 (89.81%), $100
3) Lynelle Paulick, 58, CA, 6:16 (88.51%), $75
For complete results and more, go to: www.sbmile.com