Jeff Atkinson on his Olympic experience and Matthew Centrowitz, 2016 Rio Olympic 1500m champion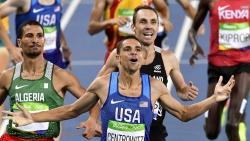 October 30, 2016
"He executed his strategy perfectly... once that fire bell rang he still had the finishing speed off of that slow pace to hold off everyone to win!"
By Jeff Benjamin, RunBlogRun.com
28 years ago, Jeff Atkinson decided to go for it. With 600 meters to go, the former Stanford runner, under the tutelage of Brooks Johnson, bolted to the second position behind Kenyan Peter Rono in the Olympic 1500 meters final in Seoul. "I executed my strategy," Atkinson said recently. "I did what I was supposed to do."
That strategy off of a slowly run race had worked like a charm for Atkinson few months earlier at the U.S. Olympic Trials in Indianapolis. Tucked into a slow race with 600 to go, Atkinson took it on the last lap, clocking around 50 seconds for his last 400 and upsetting the field to secure the first spot. U.S. Mile legend Steve Scott (3:47.69) and Indiana Hoosier Mark Deady would secure the other two Olympic spots in a very slow and contact-filled race.
Now racing with his American teammate Scott in the Olympic final, Atkinson, who sported a 3:52 mile PR, hoped to become the first American 1500 Olympic victor since 1908's Mel Sheppard. But for both Americans, it was not to be. Rono, a Mount St. Mary's athlete, led Atkinson, Scott, German Jens-Peter Herald, Brits Steve Cram and Peter Elliott and the rest of the field almost from the beginning, towing them through 1:58 at the 800, a pace that was a little faster than the tactical competitors might have thought.
"Rono was out there 500-900 meters into the race, which was the softest part of my race plan," said Atkinson. "He was a little faster than I had thought."
With the 3rd lap being run in 56.9, Atkinson at the bell was gamely hanging on, but lost contact on the last back straightaway, and finished out of the medals. The savvy Rono won, to the shock of many (3:35.96), beating Elliott (3:36.15) and Herald (3:36.21). Atkinson would finish behind Scott (5th - 3:36.99) in 3:40.80 for 10th.
"Rono ran a great race," reflected Atkinson. "I tried to do what I was supposed to with 600 out and I couldn't - he (Rono) had established his position."
Continue reading at: www.runblogrun.com