Jenny Simpson wants to put up a good fight in 1500m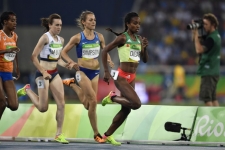 August 15, 2016
"When I was challenged with what's really the one message I believe in when it comes to not just sports but how what I do transcends sport, for me it really is what does brave look like everyday'.'
By Josh Peter, USA Today Sports
RIO DE JANEIRO — Before her first-round race in the 1500 meters Friday night, Jenny Simpson got a gift and a note from her younger sister.
"To be brave is to move forward,'' the note read.
Simpson, appearing in her third Olympics with Team USA, said those words resonated.
"Being brave would be moving forward,'' Simpson said later, "that was the thing for me to think about.''
And that's what she did, moving into the semifinals after sidestepping potential danger in a crowded field and finishing a solid fourth in her heat.
Continue reading at: www.usatoday.com