Jenny Simpson's four pillars of running success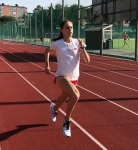 August 31, 2018
"By trusting the process over time, it's going to lead you in a positive direction to your ultimate goal, no matter what happens along the way."
By Brian Metzler, Runner's World
With four global medals in the 1500 meters (including her bronze at the 2016 Rio Olympics Rio), 11 national titles and a handful of American records on her résumé, Jenny Simpson is one of the most successful track athletes in U.S. track history. She recently ran the second-fastest women's Mile in American history, clocking a 4:17.30 on July 22 in London.
Her success can be attributed to a talented mix of speed, endurance and tenacity, as well as her highly regimented routine and positive outlook. She concludes her season with a 1500m race at the Diamond League finals on August 31 in Brussels and she has a chance to win the 5th Avenue Mile in New York City for the seventh consecutive year on September 9.
We caught up with the New Balance-sponsored pro to distill four key pillars of her success that you can use in your training, racing and general approach to running.
Make Your Rituals Become Routine
Simpson admits that she occasionally deals with a lot of the same frustrations that every runner deals with: fatigue, soreness, wavering motivation and feeling out of shape after taking a break.
The keys to counteracting these feelings, she says, are planning the rest of your activities around your running, focusing on your strengths, and reducing or mastering the parts that are constantly a challenge. (Maybe you should try a bullet journal.)
"I think that transformation from ritual to routine is what makes running really a real pleasure, something that's really special for people for their entire lives," Simpson says. "Running is one of those things that can engage people for a lifetime. A lot of people love to run, even though they aren't as fast as they used to be and they can't do all the things they used to do, and I absolutely get it."
If you're a morning person, that might mean getting up at sunrise to run. If you like running with others, it will entail developing good running partners. If you like running fast, it will mean enduring hard workouts once or twice a week—no matter the weather. On the contrary, if you always feel like you're not quite fit enough, it might mean following a training plan and hiring a coach to guide you.
Continue reading at: runnersworld.com