Kampf, Blankenship Win 5th GNC Live Well Liberty Mile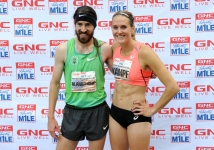 September 17, 2016
Fifth edition awards an event record $30,000 prize purse; Kampf, Queen of the Road Mile, secures at least a tie for third straight Bring Back the Mile Grand Prix Tour title at fifth stop in the Steel City; Tour 2016 finale hosted by The Navy Mile on Sunday, October 2 in Washington, DC
From GNC Live Well Liberty Mile
PITTSBURGH – The 5th GNC Live Well Liberty Mile, with a record prize purse of $30,000, welcomed Milers to Pittsburgh on a beautiful Saturday morning in the Steel City. Heather Kampf and Ben Blankenship won their American Development Pro races in 4 minutes, 33 seconds, and 4:02, respectively. Kampf, 29, became a four-time Liberty Mile champion (also 2012-13 & 2015-16), while 2016 U.S. Olympian, Blankenship, 26, won his first GNC Live Well Liberty Mile title in his Pittsburgh debut.
The women's race opened up in a brisk 65 second first quarter mile with Sara Vaughn leading the pack, closely followed behind by Kampf, Stephanie Brown, Rachel Schneider and Emily Lipari. By the halfway mark, Vaughn would build a small three stride length over Kampf coming through in 2:14. With a quarter mile to go, Kampf, the race veteran, would begin to make her move alongside Lauren Johnson, Shannon Osika and Brown. At 200 meters, Kampf would solidify her lead and go on to win by two seconds over Lipari's 4:35 (4:34.73), whom she lost to just a week ago at the Minnesota Mile. Johnson was right behind in third, also clocking 4:35 (4:34.77). Incredibly, Kampf also won her 21st road Mile since 2011!
"It feels like I'm in Minneapolis when I'm here. It's my second home and I can walk around and people stop me to chat about their race; it's so much fun. There's a little bit of additional pressure, but it's positive anticipation when you have that type of energy around you," said Kampf, who is also celebrating her wedding anniversary today with husband Ben. "A year or two ago, Ben (husband) gave me this headband tiara looking thing because people call me the Queen of the Road Miles and I wanted to wear it on our anniversary; I felt it falling with about a quarter mile to go and I thought, 'I can't lose this in our wedding anniversary!' So, I tore it off and held on tight to it, which made me kick earlier than I planned on to win the race."
The men's race would be led by defending GNC Live Well Liberty Mile champion Jordan McNamara and Blankenship, with Jake Edwards and Eric Avila trailing closely behind in a tight group. They would go through the quarter-mile mark in 61 seconds and continue to run evenly around the turn onto Liberty Avenue crossing the halfway point in 2:02 with Daniel Winn sharing the lead with Blankenship. With just over a quarter mile remaining, Ford Palmer and Riley Masters would join Blankenship at the front, but it would be the 2016 Olympian's race to lose. He would take control of the race with 200 meters, covering the final quarter mile in an even 60 seconds, finishing ahead of Masters' 4:03 and Avila's 4:04.
"The time was irrelevant to me this morning. I wanted to win and close the season on a high note," commented Blankenship who finished 8th in the Rio Olympic 1500 and joined fellow Minnesota native, Kampf, as a GNC Live Well Liberty Mile champion. "It's been a great last half of the season."
Kampf and Blankenship also earned $5000 each as the GNC Live Well Liberty Mile champions.
The Masters champions, 40 & older, were Alan Wells, 53, Orlando, FL and Anna Mayhewrozek, 40, West Bend, WI in 4:52 and 5:58, respectively; each took home $500.
The fifth edition, with an event record $30,000 overall prize purse, awarded the second largest guaranteed Mile prize purse in the U.S.
"This year celebrated the 5th anniversary of the race, which had the highest prize purse of $30,000. The race has grown into one of the finest road Miles in the country and continues to attract the best American runners along with runners of all ages and abilities," said Jeffrey R. Hennion, EVP Chief Marketing & e-Commerce Officer of GNC. "At GNC, we have been thrilled to be a part of such a great race from its inception. As a company, we have been fueling runners' endurance, speed and success since 1935, and we had countless runners and volunteers participating today, so being part of what is becoming an iconic race in our hometown is very important to us, our associates and our customers."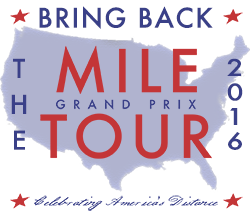 The event was also the fifth stop on the Bring Back the Mile Grand Prix Tour 2016. With the win, Heather Kampf also secured at least a tie for her third straight Grand Prix title with 32 points, only Emily Lipari, with 22 points, can tie Kampf for the GP crown with a win at the Tour finale. For the men, Ben Blankenship sits atop the standings with 20 points, followed by Ford Palmer (18 points) and Riley Masters and Graham Crawford (14 points each). The next Tour stop, the finale, is The Navy Mile on Sunday, October 2 in Washington, DC. The total prize purse for the six Tour events exceeds $120,000 plus $10,000 for the Grand Prix purse. Per Tour event, per gender, top 6 will score points (10, 8, 6, 4, 2 and 1) with the top 4 Grand Prix scorers earning GP money ($2500, $1000, $750 and $500) plus, new this year, a $250 bonus for the Tour Performance-of-the-Year will be awarded per gender.
5th GNC Live Well Liberty Mile
Bring Back the Mile Grand Prix Tour 2016: Fifth Stop
Pittsburgh, PA, Saturday, September 17, 2016
MEN
1) Ben Blankenship (OR), 4:02, $5000
2) Riley Masters (WA), 4:03, $3000
3) Eric Avila (OR), 4:04 (4:03.22), $2000
4) Ford Palmer (NJ), 4:04 (4:03.78), $1000
5) Jack Bolas (NC), 4:05, $750
6) Biya Simbassa (MN), 4:06, $500
7) Brandon Hudgins (NC), 4:07 (4:06.09), $250
8) Daniel Winn (MA), 4:07 (4:06.80)
9) Jake Edwards (OH), 4:10
10) Harun Abda (OR), 4:11
WOMEN
1) Heather Kampf (MN), 4:33, $5000
2) Emily Lipari (MA), 4:35 (4:34.73), $3000
3) Lauren Johnson (OR), 4:35 (4:34.77), $2000
4) Shannon Osika (MI), 4:36, $1000
5) Sara Vaughn (CO), 4:38, $750
6) Rachel Schneider (DC), 4:40, $500
7) Christy Cazzola (GA), 4:44, $250
8) Stephanie Brown (CA), 4:47
9) Sarah Paddon (NC), 4:56
10) Brigitte Mania (GA), 4:57
MASTERS (40 & older)
MEN
1) Alan Wells, 53, (FL), 4:52, $500
WOMEN
1) Anna Mayhewrozek, 40, (WI), 5:58, $500
For complete results and more, go to: LibertyMile.org