LetsRun's Look Back at Morgan Uceny's Career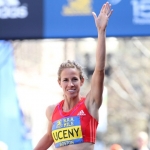 December 16, 2016
Former #1 ranked 1500 / Mile athlete, Diamond League champion and 2012 Olympian suffered disappointment in global championship finals
By Robert Johnson, LetsRun.com
For most runners, when we catch the bug in middle school or high school, the dream is the same – to make the Olympics. Morgan Uceny accomplished that and much more.
However, now that her career is over at age 31, it's impossible to not wonder, "What could she have accomplished had she not fallen in the finals of both the 2011 World Championships and 2012 London Olympics?"
That's a reasonable question to ask since the only times Uceny, a Cornell grad, ran on the world stage – at those two global championships – she was the victim of a fall.
The correct answer to that hypothetical is, "Almost certainly a medal, possibly even a gold medal."
In 2011, Uceny ended the year as the 1500 meter world leader (4:00.06) and was named the World #1 by Track & Field News, the first American woman since legend Mary Decker Slaney (twice in the 1980s).
Continue reading at: www.letsrun.com