Maine man ran in Bannister's famous sub-4 minute Mile race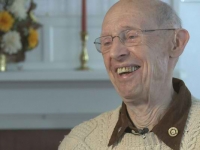 November 18, 2014
George Dole remembers the announcer giving the time for the race, and when he started saying the time as "three minutes..."...people started cheering so loudly they couldn't hear the rest of the number.
From WCSH6 NewsCenter, Portland, Maine
On May 6, 1954, a young man from Maine became part of sports history in perhaps the most iconic race of all-time.
That was the day in England when Roger Bannister became the first racer to run a Mile in less than four minutes. The 4 minute Mile had been one of those seemingly impossible barriers in sports for a number of years, until Bannister broke it by just six-tenths of a second.
Running the race with him was George Dole, from Bath. Dole had started running as a student at Morse High School, then was on the Yale University track team. He was a graduate student at Oxford University in England, and a member of that school's track team at the time of the record-setting race.
Dole told NEWS CENTER there was great anticipation of breaking the 4 minute Mile, as well as some doubt it would ever happen. He says that day's race was between Oxford and the Britain AAU, and that Bannister and two other runners entered with the goal of beating the coveted 4 minute mark.
Dole started on the pole. He ran hard for the first hundred yards. At that point, three elite runners move to the front and Dole fades out of the screen and into a happy and productive life.
Continue reading - includes video - at: www.wcsh6.com