Mary Cain shows a talent far beyond her years at nationals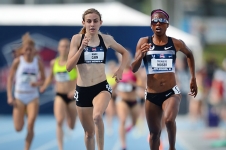 June 23, 2013
Teen phenom finishes USA 1500 meter runner-up to training partner Treniere Moser with sub-58 second final lap; youngest U.S. athlete to make a Worlds team
By Tim Layden, Sports Illustrated
DES MOINES, Iowa -- There will soon be a powerful urge in the world of U.S. track and field to envision what 17-year-old Mary Cain can be on some future night in some distant stadium against great middle distance runners from faraway lands. She is so young now, yet already so fast and improving more swiftly than even those closest to her had ever imagined. Her talent runs historically deep, and yet it has scarcely been explored. The temptation crawls up behind the sport and taps it on the shoulder, begging to be acknowledged, because it has been so long since an American woman was the very best in those races, and because all sports are beset by the curse of projection, where today is never worth embracing when tomorrow can be imagined.
But in this case, today is pretty good. On a blistering Saturday afternoon at Drake Stadium, Cain broke open the 1500 meter run at the USA Outdoor Track & Field Championships with a lap remaining and held on for second place behind training partner Treniere Moser (above, PhotoRun.net). Just a few weeks after the completion of her junior year at Bronxville High School in New York, Cain qualified to represent Team USA at the World Championships in Moscow in mid-August. She has been confirmed as the youngest U.S. athlete to make a Worlds team in the 14 renewals of the event, which was first contested in 1983.
During a media session after her race, Cain waved a fuzzy little yellow duck named Puddles and embraced the purity of the moment, in the moment.
"You never know where you're going to be years from now," Cain said. "I have the greatest support team -- coaches, parents, teammates -- so I can still be around years from now. But it's nice to get on that team when you're running good."
Cain's historic race would share the afternoon with hurdler Brianna Rollins. Only 21 herself and less than a month removed from an NCAA title, Rollins won the 100m hurdles in 12.26 seconds, shattering the great Gail Devers' 13-year-old U.S. record of 12.33, which had been set at the 2000 Olympic Trials in Sacramento. Rollins' time was the fourth-fastest in history, just .05 behind Bulgarian Yordanka Donkova's 25-year-old record of 12.21. (Like Tyson Gay's blazing 9.75 100 meters Friday night, Rollins' race was run on a reversed home-stretch straightaway, turned around by USATF officials because of "extreme headwinds.")
Continue reading at: http://sportsillustrated.cnn.com