Mary Decker and Zola Budd drove women's athletics forward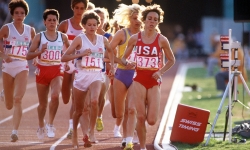 July 28, 2016
More than 30 years after their heyday on the track, Decker and Budd still hold national records for the Mile.
By Jason Henderson, The Guardian
For an arena that bills itself as "the greatest stadium in the world", the Los Angeles Coliseum is badly in need of a facelift. Large cracks caused by an earthquake that damaged the arena in 1994 are still visible. Many of the seats used by spectators at the 1984 Olympics are unchanged, and look weather-beaten after absorbing 32 years' worth of intense Californian sun.
But while the arena is looking its age, one of the biggest stories of those Games – the clash between Mary Decker (later Slaney) and Zola Budd in the women's 3000m – has stood the test of time. Thirty-two years later, it remains a much-debated incident – and the two athletes' performances paved the way for a boom in women's running.
Today it is not unusual for women to outnumber men at mass-participation running events, and this is partly thanks to the pioneering efforts of Decker and Budd. When they began running in the 1970s, the athletics world was dominated by male stars, but this soon changed as race promoters reacted to the rising interest in Decker and Budd in particular; women were no longer a sideshow, but now at center stage.
They were the Seb Coe and Steve Ovett of the women's running scene, but with richer back stories: their amazingly eventful careers encompassed divorce, suicide, allegations of doping, death threats and even murder. Then there was the politics, with South Africa-born Budd repeatedly targeted by anti-apartheid demonstrations.
Continue reading at: www.theguardian.com