Matthew Centrowitz follows his father's footsteps to a second Olympic team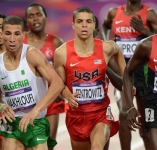 August 03, 2016
"I kind of embraced that kind of role as a favorite. That's where everyone wants to be. It's certainly harder to stay on top of the mountain than to get up there. My personality, I've embraced and enjoyed the spotlight."
By Adam Kilgore, The Washington Post
The joke already has hardened into Centrowitz family lore, a burst of hilarity tucked within a moment of joy.
On July 10, Matthew Centrowitz stood victorious on the Hayward Field track in Eugene, Ore., holding a miniature American flag in his right hand as he began an interview. He had not only qualified for the Rio Games. He had set the U.S. Olympic Trials record in the 1500 meters, finishing in 3:34.09. He had become a two-time Olympian, a television reporter intoned, just like his dad decades before.
"Like father, like son?" the reporter asked.
Centrowitz grabbed the bottom of his tank top with both fists and lifted the shirt to his chin, revealing a tattoo inked across his chest, script of those precise words. "Like father," Centrowitz said, as if using his body as a cue card, "like son."
The camera cut to his father, Matt, in the crowd, as he fiddled with the top of his royal-blue American University pullover, then cut back to Matthew on the track. "Impeccable timing," Matthew said later, chuckling. It looked to viewers — as a dozen incredulous text messages from Matt's friends would soon confirm — as if dad was about to reveal his own, matching ink.
Continue reading at: www.washingtonpost.com