Meet the Miler: Heather Kampf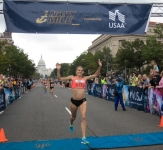 October 01, 2019
Queen of the Road Mile seeks title defense and record 4th BBTM Grand Prix Tour crown at The Navy Mile on Sunday, October 6 in the nation's capital
By David Monico, Bring Back the Mile
Heather Kampf ends her roller coaster, at times frustrating season at The Navy Mile, where she is a two-time champion (2016 & 2018) and course record holder (4:38 in 2016). With a top 6 performance in Washington, DC, the Team USA Minnesota, ASICS-sponsored athlete will capture a record 4th Bring Back the Mile Grand Prix Tour title (also 2014-16). Top women expected to challenge Kampf on Pennsylvania Avenue include rising star Shannon Osika and defending two-time Tour champion Emily Lipari. For the fourth straight year, The Navy Mile hosts the Tour finale with top four grand prix prize money spots to be determined as well as both Tour champions. With a top 3 finish at the race, Daniel Herrera will defend the men's Tour title.
We sat down with the Queen of the Road Mile ahead of the 5th Navy Mile on Sunday, October 6.
BBTM: What's for lunch?
Kampf: I'm trying to be quiet, but I'm roasting a bunch of veggies on a pan.
(Laughs) Sounds delicious! We were talking here at BBTM and realized we've never had a formal interview with you, the Queen of the Road Mile.
No kidding (laughs).
I'm glad we're finally doing this.
Oh, good. Yeah.
You're headed out to The Navy Mile in DC. Is this the last hurrah for 2019?
This is the last hurrah for 2019. I don't have any other races and I do coach cross country in the fall, so I don't want to miss practices any more than I already do.
Your coaching high school, is that correct? How's it going?
Yeah, high school girls cross country. It's going pretty good. I started in 2010 as an assistant, and then this is my third year as head coach. It's a very small team and I'm just as much focused on personal development as I am their athletic development.
It started off helping out the first couple of years because they were in a bind of sorts and needed extra help. Then you know, you fall in love with one group of kids, and then you get some new ones in. Once you get to know the girls and are a part of their lives it makes it difficult to leave, not that I'm looking to do so.
Are you doing anything else at the school, or are you just coaching?
No, just coaching. The school is about half an hour away from home, but it's in my former conference that I ran in, when I was in high school and I see my former coaches. So that's fun.
Do you stay in touch with your old high school coach outside of the Cross Country season?
I do see them at meets and we chat, so that's fun. I saw my high school cross country coach and his son, who's now into running and iwas a super fan at USAs this year, which was great. My cross country coach was different than my track coach, but both were there all four years that I was there; I am still in touch with both of them, which is nice.
Some people might involve their high school coaches as advisors, but I feel like mine have mostly become cheerleaders. They just trust who I'm working with and it's fun just to have that support and know that they're still keeping track of me.
With the two coaches, was there anything in particular that they did or their way of coaching and motivating you that stuck with you?
Yeah, kind of. I find myself quoting things that my coach has said to me to my high school girls, because I feel like it's really relevant to that timeframe of your life. But one thing my cross coach always said was to "expect to be up there."
I think a lot of times you look at a big long starting line for cross country, and you're like: "Oh, there's so many people, where am I going to fall in this?" Just having that expectation and that positive mindset that you will be a part of that top group, I think is helpful so you don't get swallowed up.
So, that is one that has definitely stuck with me, especially going from high school to college where I was probably not, on paper, somebody who should have been up there with the top tier of each race that I ran. I just still had that mentality that like: "Oh, I'm competitive at any starting line. Anything could happen." So I just need to give myself a chance and I think that's how I dropped so much time, at least in the 800 right away my freshman year of college. I thought just race with a lot faster people, and they pulled me along.
You've had a lot of fearlessness over your career; of course there is that one literal representation of that from your unbelievable 600 meter win at the 2008 indoor Big Ten champs after a fall before the gun lap as well as your persistence and consistency over the years.
It's funny that you would call it fearless because that would not be a word I would use to describe myself at all, but I'm glad that I look fearless or courageous. I think sometimes it's more blind optimism, hoping for the best and being willing to give myself a shot. But, however it comes off, that's great.
[EDITOR'S NOTE: The YouTube video of Heather's incredible race mentioned above has had more than 21 million views.]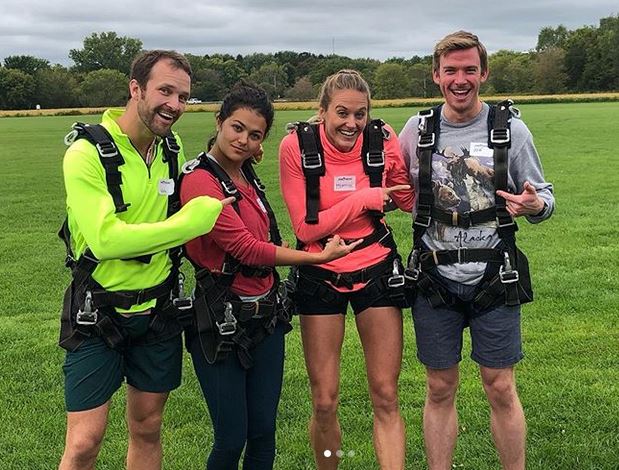 You and Ben just went skydiving recently. That's pretty fearless.
Oh, yeah. We went last year for his birthday, and then he hasn't stopped talking about it since, so we had to go again.
What's more thrilling? Skydiving or winning a Mile race?
I would say the buildup is similar and the worst part whether you're waiting for the gun to go off or waiting to jump out of the plane. Then as soon as you're actually doing it, you're good. You know what to do or you're just free falling so there's nothing else you can do. Then afterwards, I think I'm a little shaky and just jazzed and excited.
I think I actually did say to someone there when we got on the ground, I was like: "Oh, I kind of feel like I just finished a good race." It has that same afterglow.
You're high fiving everybody. Everyone had a great time or race after a win.
Yeah, you have this cheesy grin on your face that you can't remove. There's some similarities for sure.
Ben found this great YouTube video. It's Will Smith and he had this whole speech about him going skydiving, and his analogy was something like God places some of the best things in life on the other side of fear and how grateful he was that he skydived. I can totally identify with that.
I think he did it for a big milestone birthday or it might've coincided with him doing one of those like carpool karaoke things. Speaking of which, if you're in a car and you have to do carpool karaoke, who's coming with you?
Well, I would say my favorite thing to do on long road trips is sing Disney songs and I can sometimes convince Ben to sing the male parts of duets with me, which is pretty fun. So, I would definitely bring Ben. I was literally just talking about this at work yesterday with one of my co-workers, Chelsea, and she said she went karaoke singing and did Disney songs. I'm like: "Oh, you are coming on my next road trip!" So maybe I'll bring her along too.
When I go on a road trip with the kids you're hired.
There we go!
I continue to see this trend of both men and women training at a high level into their 30s. We're even seeing people now training at high level into their 40s. It's really fascinating from a training perspective and how they manage their bodies, especially through injuries. What are you doing or what are you focused on to remain healthy now that has changed over the years?
This year I had my first significant injury since 2017 and I've definitely had to put a little bit more of my focus on prehab rehab, like stretching exercises. When I was younger I would get the exercise and do it until things felt better and then just move on and never need to worry about it. Whereas now I feel like I need to maintain consistency and keep pulling those exercises out to make sure that those weaknesses don't return.
We're probably all our own biggest critic with nutrition, but I like to think that I've been more intentional about my nutrition; making sure that I'm getting stuff in post-workout, post-race a little bit sooner and making sure I'm recovering well.
I think it's a mentality thing too. I haven't felt like I've done anything all that different. I've always been of the mindset that every year I run, I should expect to get better, and it maybe isn't always necessarily getting better on paper with faster PRs. But, if I'm better at tempo runs, if I'm running faster sprints, if I'm learning something, you know, that's valuable, then I'm still improving. And so it's just this constant perspective of moving forward that I've taken to approach my training life. I know that's not indefinite per se, but I feel like that focus has helped kept me feeling. Until at least I meet the people in my race, and I don't know any of them. And I'm like: "Oh, you're so young" (laughs).
For example, I roomed with Allie Ostrander at the recent Fifth Avenue Mile and she was watching Friends. I'm like: "Oh, you're watching Friends. How many times have you gone through that show?" She replied, 'This is my first time' and I just about tipped over. It was so cute.
It's funny how a lot of the shows from the 90s are so popular now. Don't they have their own shows?
It's throwback now. (laughs)
At least we can relate to the younger generation, which is kind of nice.
It is for sure.
And you can still kick their butts.
Yeah (laughs). I do find it really funny that we'll go to a race and it's a course somebody hasn't run before. They come to me: "Oh Heather, can I do the warm up with you?" I'm out giving course tours and telling people where they need to go to warm up and playing mama duck. I'm not sure if I should be helping this much, but it's just kind of in my nature. Once the race goes off though, we're going to be fighting; for now we're friends.
As you close out 2019 what stands out to you as one of your favorite races?
Oh, gosh. I would say in terms of environment, the Sir Walter Miler or the Long Island Mile; those track races where they get people out on the field. Sir Walter was crazy because it was pouring rain. It was every reason for people to go home and it was 10:00pm by the time we actually raced. There were people lining the track and high fiving like it was any other day. It's great to have the community come out and support in that way.
And then the Falmouth Mile sticks out for me as a turning point where I had all my calf trouble kind of mid-season this year and was not ready for USAs like I wanted to be. At Falmouth it was the first race of the year where I got to the last lap I still felt good; I could make the moves I wanted to make. I honestly forgot what that feels like to be able to make choices because I have the tools; it's just bringing them back out and being healthy enough to employ them.
That was really special to remember how fun racing can be, because it's a chore when you go into a race, and you know you're just not 100%. You try and fake it and you do everything you can, but it's hard on you mentally and emotionally to do that. Especially a couple in a row.
How has training changed over the years. Is Ben still getting out there and running with you? Are Ellie and Dewey good training dogs?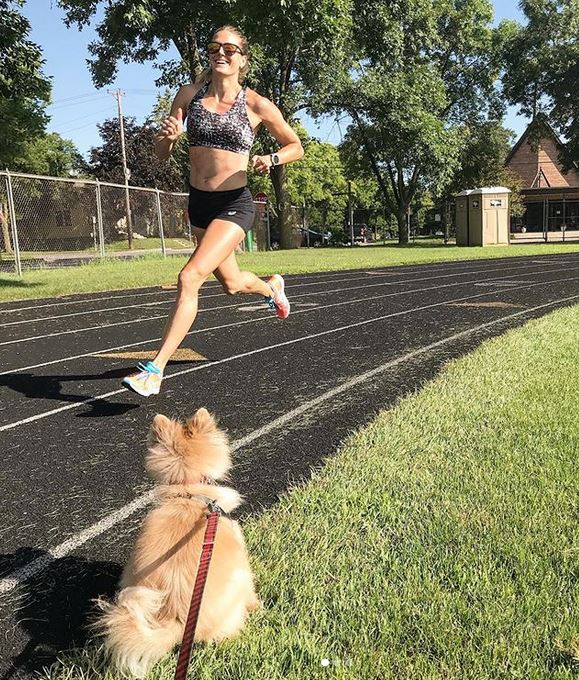 Yeah, Ben generally comes out on long runs and recovery runs a fair amount. He had a little bit of a foot issue earlier this year so he has not come on every workout with me, but I'm hoping to get him back out for 2020 training; especially the basework because he can just talk me through it when I want to die.
We actually had a bit of a scare with Dewey (photo, right). We thought something was wrong with his neck cause he was limping and the vet kind of said to keep him pretty mellow. So he's only ran twice in the past few months. But he's back to his usual chipper self, so we should be getting out the door this fall a little bit more with them.
My training group is good though at Team USA Minnesota. I always at least have a warm-up and a cool down partner even if we're not doing the exact same thing on the track. And we've got a couple of new athletes on the team that I've gotten to align some of my workouts with, which is so fun.
I just find that I feel a thousand percent better, if that were possible, when I get to run with people doing their workouts; that's my favorite.
It's good to hear that there's a good core at Team USA Minnesota.
Yeah. Breanna Sieracki, a steeplechaser, and I went to Flagstaff together this spring and pretty much had everything the same for kind of base building, which was awesome. And then there was a long chunk where I was just pretty much by myself doing Miler track stuff while everyone else is focused on longer things, but then in the fall we line back up again because you get strong doing the same kind of stuff. I just usually have to do less of them.
Are there going to be any changes for 2020 or will the focus remain on the 1500 / Mile?
I think that it will still be a 1500 / Mile focus. Before I got that sacral stress fracture I was signed up to run my first competitive 5000 on the track and I felt I was ready to run low 15s. If training goes really well over the winter and into early spring, I might still just see what I could do in one to round out my racing. You have to be strong like a 5K runner and fast like an 800 meter runner to really be right at the 15, so I want to keep expanding my repertoire. I'm not sure how much of a focus I'll put on indoors this year, so that might mean an early 5K to get my feet wet in 2020.
There's not a lot of 5K people who have 800 meter PRs quite like you do. Do you ever see yourself pulling a Bernard Lagat and jumping up to the marathon?
Oh, no, I don't have any vision of that. I can't picture it. I might, but when I'm done using up all my speed, I might try to just do one, but I'm not sure if I would race it. It's really intimidating; not so much the physicality of it, but what do you think about for 26.2 miles.
I have to imagine if you went for it and ran sub-2:30 or sub-2:40, you'd have to have one of the faster 800 / marathon women's combos in history.
That would be fun. Yeah, I've been doing a lot of my recovery runs lately with Carrie Tollefson in town here. She ran three hours-ish right after she had one of her kids, and this year, she hopes to get under three at Twin Cities. Maybe I could convince Carrie to do some marathon training with me.
Thanks again, Heather, and so glad that we could finally do this interview. Good luck defending champ at The Navy Mile! You're in the driver's seat to earn your fourth GP Tour title!
Thank you!