Memories of Roger Bannister's record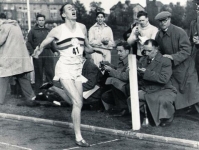 February 25, 2012
By Rhianne Pope, Oxford Mail
When Roger Bannister stepped out on to an Oxford running track nearly 60 years ago, he was about to make sporting history.
And now a project at the Oxford Playhouse is looking to hear from the 3,000 people who were there to witness the first sub-four-minute mile.
Organisers hope to collect memories, photographs and other memorabilia for a play to be written and performed later this year.
Read complete article at OxfordMail.com