Mile Moment of the Month: Jim Ryun's Sub-4 at Kansas State Meet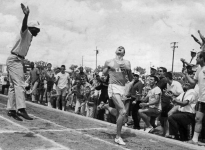 May 15, 2014
Epic, history-making high school Mile race by teen phenom & 1964 Olympian stands the test of time
On Saturday, May 15, 1965, Jim Ryun, who a year earlier had already broken 4 minutes in the Mile as a junior for Wichita East High in Wichita, Kansas, the first prep athlete to achieve the magic mark, walked onto the cinder track at the Kansas State Meet to attempt a solo sub-4 minute Mile. His athletic talent, already known the world over, was nonetheless stepping onto untested ground. Ryun's first sub-4 came at an Open race almost a year earlier on June 5, 1964 in Compton, California, a season in which the talented teen also qualified for the 1964 Tokyo Olympic Games in the 1500 meters. This would be a high school-only race where he led every step of the way in a race against the clock and pain.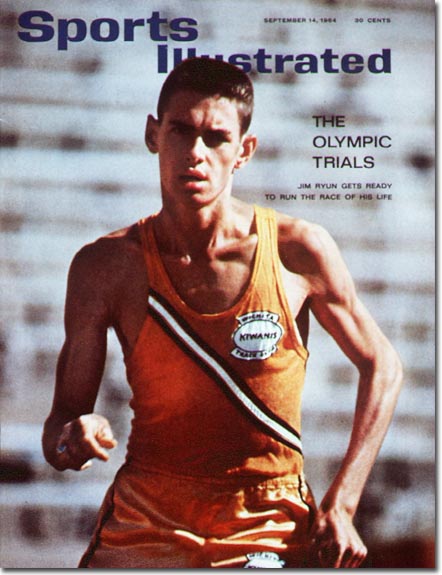 What ensued remains one of the greatest individual High School track & field accomplishments ever, arguably the greatest HS track performance all-time. Ryun's awe-inspiring 3:58.3 solo clocking on that May afternoon in Wichita was the first sub-4 at a high school-only competition and remains the fastest to this day and it is the only sub-4 minute Mile at a State meet to-date. His 440 splits were: 58.3, 2:00.8 (62.5), 3:02.6 (61.8) and 3:58.3 (55.7). NOTE: since this article was written, in 2022, Gary Martin (PA) recorded a 3:57.98 at a HS-only meet.
His epic performance also produced an incredible moment capturing photo for the ages (above).
Overall, Ryun ran five sub-4 minute Mile races as a HS boy, the most ever!
Unfortunately and disappointingly, the Kansas State High School Activities Association (KSHSAA) does not celebrate this historic mark in their record books. With some of America's greatest Milers of all-time born and raised in Kansas, there isn't a better state than the Sunflower State to Bring Back the Mile to honor them and Ryun's extraordinary high school Mile performance.
May 15, 1965, Wichita, KS
Jim Ryun breaks 4 minutes (3:58.3) for the Mile at Kansas State Meet – first sub-4 at high school-only competition and State meet (1965); still the only sub-4 at a State meet.
Jim Ryun commentary post-race with local TV station KAKE