Mile Moment of the Month: Steve Scott's Dream Mile 1982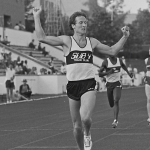 July 07, 2014
In thrilling race against top field, the legend again breaks his U.S. record in Oslo, Norway
By Bring Back the Mile
A Mile is four laps on the track that some have called the perfect distance and a four-act play. Oslo's Bislett Games Dream Mile in the 1980s was the pinnacle of this classic distance, pitting world class Milers against each other year-after-year.
On Wednesday, July 7, 1982, American Steve Scott stepped onto to the famed track in Oslo at the top of his game having broken the 3:50 barrier a year earlier at the same event, establishing a U.S. record of 3:49.68, topping Jim Ryun's 14-year-old mark, and 11 days before at the Bislett Games, in Oslo, he again set the U.S. Mile record with a 3:48.53 clocking to break his 1981 mark.
This Mile era was also arguably the most competitive and golden. In 1980, Steve Ovett (GBR) set the Mile world record (3:48.8) at the Dream Mile, only to have it lowered three more times by himself and fellow Brit Sebastian Coe (3:47.33) in an epic stretch of racing in August 1981.
At the Oslo Games 1982 against a world class field, Scott, 26, had his sights set on breaking Coe's then world record of 3:47.33 and the eventual 1983 World Championships 1500m silver medalist would narrowly miss this mark, breaking the beam in 3:47.69 and producing the #2 all-time Mile performance. Nonetheless, Scott lowered his U.S. record that lasted nearly 25 years before Alan Webb's 3:46.91 on July 21, 2007. The three-time Olympian has held the U.S. men's Mile record the longest, just over 26 years (1981-2007). Great Scott!
Also in the race, Scott beat the first man to break 3:50, New Zealand's John Walker (3:49.08), and Ireland's Ray Flynn (3:49.77) who set still standing national records.
Without question, Steve Scott had one of the most decorated Mile careers, including an incredible 137 sub-4 minute Miles (a record not likely to be broken), but perhaps this "dream" race in 1982 was his biggest Mile moment.
Below are videos of Steve Scott's two American records set in the month of July beginning with the most famous of them all: his 1982 "Dream Mile" at the Oslo Games..
Steve Scott, 3:47.69, U.S. record, July 7, 1982, "Dream Mile" (winner)
Steve Scott, 3:49.68, U.S. record, July 11, 1981, Dream Mile (third place)