Mile Runs Gain Popularity in Road Racing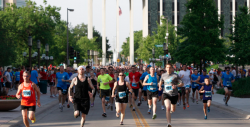 June 01, 2015
"The Mile is deeply embedded in our culture. We think and speak in Miles. It's still something runners talk about and want to achieve."
By Bethany Stripp, My Chicago Athlete Magazine
If you want to run a short road race, you'll likely search for an area 5K: an iconic distance, but one that means little to most Americans who grew up using Miles instead of kilometers as a unit of measurement. If a new movement has its way, though, you'll soon have more chances to run less than 3.1 Miles.
Bring Back the Mile began three and a half years ago in order to increase interest both in the running community and across the general population in the Mile as a race unto itself: a goal that uniquely caters to the American system of measurement, says BBTM founder Ryan Lamppa.
"The Mile is deeply embedded in our culture," Lamppa says. "We think and speak in Miles. It's still something runners talk about and want to achieve."
According to Lamppa, roughly 25 brand new road Miles appear every year, with around 800 currently in existence across the country, including the PR Mile in Darien on June 20, the State Street Mile in Rockford on Aug. 1 and the Fling Mile in Naperville on Sept. 7. While these races may not be as ubiquitous as standard road race distances such as the 5K, 10K, half-marathon or marathon, Lamppa says they have more meaning to the general public.
Continue reading at: www.mychicagoathlete.com