Miller, Kampf Win Grandma's Minnesota Mile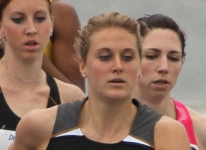 September 09, 2012
2012 USA Mile road champions top fields in close races at 6th edition in downtown Duluth
By Bob Gustafson
DULUTH, Minn. – (September 9, 2012) – Craig Miller won Grandma's Minnesota Mile road race in downtown Duluth on Sunday morning. Miller, 25, of Madison, Wis., finished in 4 minutes, 1.4 seconds, claiming the champion's prize purse of $2500. Australian Craig Huffer, who trains in Ann Arbor, Mich., placed a close second in 4:01.6, while South Africa's Peter Van Der Westhuizen of Omaha, Neb. took third in 4:03.9.
At the 6th edition, Heather Kampf, 25, of Minneapolis, captured the women's Open division title and $2500 with a winning time of 4:36.5. She edged Team USA Minnesota teammate Gabriele Anderson, also of Minneapolis, who ran 4:37.5. Barbara Parker, a 2012 Olympian from the Great Britain, was third in 4:38.8.
With wins here, Miller and Kampf earned road Mile "triple crowns" of sorts with national titles at the 2012 USA 1 Mile Road Championships last May in Minneapolis and victories at the inaugural GNC Live Well Liberty Mile three weeks ago in Pittsburgh.
A total of 549 people registered for the Grandma's Minnesota Mile event which featured four separate divisions ― Minnesota Mile (Elite), Duluth Mile (Semi-Elite), All City Mile (Recreational) and the Verizon Kids Mile.
6th Grandma's Minnesota Mile
Duluth, MN, Sunday, September 9, 2012
MEN
1) Craig Miller, 25, Madison, WI, 4:01.4, $2500
2) Craig Huffer, 22, Australia (Ann Arbor, MI), 4:01.6, $1500
3) Peter Van Der Westhuizen, 27, South Africa (Omaha, NE), 4:03.9, $1000
4) Emmanuel Bor, 24, Kenya (Troy, AL), 4:04.5, $800
5) Julius Bor, 26, Kenya (Las Cruces, NM), 4:05.3, $600
6) Onesmus Serem, 27, Kenya (Lansing, MI), 4:05.8, $500
7) Tommy Schmitz, 29, Goleta, CA, 4:05.8, $250
8) Luke Rucks, 24, Wisconsin Rapids, WI, 4:07.0, $100
WOMEN
1) Heather Kampf, 25, Minneapolis, MN, 4:36.5, $2500
2) Gabriele Anderson, 26, Minneapolis, MN, 4:37.5, $1500
3) Barbara Parker, 29, Great Britain (Framingham, MA), 4:38.8, $1000
4) Chemtai Rionotukei, 26, Kenya (Lansing, MI), 4:40.2, $800
5) Kellyn Johnson, 26, Flagstaff, AZ, 4:49.3, $600
6) Jamie Cheever, 25, Minneapolis, MN, 4:44.1, $500
7) Doreen Kitaka, 28, Kenya (Coon Rapids, MN), 4:47.0, $250
8) Dawn Grunnagle, 34, Dallas, TX, 4:48.2, $100
MASTERS (40 and older)
Male
1) Lance Elliott, 41, Edina, MN, 4:31.7, $500
Female
1) Breeda Willis, 42, Stevens Point, WI, 4:58.1, $500
Verizon Kids Mile (Ages 8 to 14)
Male
1) John Schwinghamer, 13, Mora, MN, 5:45
Female
1) Selena Shady, 13, Esko, MN. 6:19
For complete results, go to: www.grandmasmarathon.com or www.mtecresults.com