Minnesota Twins: Anderson, Kampf Mile Aces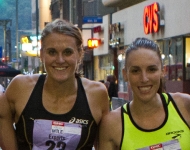 September 07, 2012
The Twin Cities are growing—and retaining—national-caliber mid-distance women
By Jon Gugala, Bring Back the Mile
MINNEAPOLIS – Minnesota, as most people know, has harsh, bitterly cold winters. Even F. Scott Fitzgerald, a native of St. Paul, admitted it, describing how the interminable season "[shuts] down like the white lid of a box," with a wind "cold as misery."
But Fitzgerald also wrote that the best athletes in the United States come from Minnesota. "They don't indulge in the cheering luxury of tears," he said. And that's as good a reason as any when you're trying to explain the emergence in 2012 of the Team USA Minnesota women as a mid-distance powerhouse in the making.
Gabriele Anderson, 26, is from Perham, northwest of the city and closer to the Dakotas. Though she was a walk-on at the University of Minnesota—what she calls her "D-I gamble"—she looked like a thoroughbred as she stormed into the 2012 U.S. season in her third year as a pro.
How good was Anderson? She was kicking-down-2011-world-#1-Morgan-Uceny good, as she did in May at the Oxy High Performance Meet 1500m. She was so good she made the media forget she had survived cancer. After a fourth in the 2012 Olympic Trials 1500m, there were no tears; she took that momentum and channeled it into PRs in that event, the 800m (4:04.84 and 2:02.83, respectively) and broke 4:30 in the Mile for the first time with a 4:27.94 at Falmouth, the 40th American woman to do so and the third fastest Mile in 2012 to-date for women.
And then there's Heather Kampf, the racer in that video that everyone's seen but no one remembers the name of.
Kampf, of Inver Grove Heights, also went to UofM, where she was a nine-time All American and an NCAA champ. When she graduated, she did briefly consider relocating to continue running, but "none of [the groups] seemed to be any more of a draw to me than just staying home," she says. She was engaged, and her family was nearby.
So the 25-year-old joined Team USA Minnesota, got married, and ran fast. At the Trials, Kampf finished 7th in the 800m final and was a semifinalist in the 1500m. But her biggest results this year have been on the roads, with wins in the GNC Live Well Liberty Mile on August 17 and in front of a hometown crowd for 2012 USA 1 Mile Road Championships, which runs through downtown Minneapolis.
"Every step of the way I felt like I heard someone yelling my name," Kampf says. "You feel like you're carrying a lot of weight for your state when you're representing them."
Being home has its benefits: the state's running community is intimate. Everybody knows everybody. Support for elite running is conspicuous. "I've had a few people even stop me on my runs in their cars and tell me how fun it was to watch me [in the trials]," Anderson says.
And it's the same for Kampf: "A lot of people that run by say hello. I feel bad because I'm not sure who they are," she says, laughing.
But there is also the Minnesota magic, which, if you haven't heard of it, must mean you're not from Minnesota. It's the lucky rabbit's foot for her running, Anderson says: "I really thought that if I stayed in Minneapolis, staying close to friends and family, that I would be successful. I [didn't] want to change what's been working."
Minnesota will always be Minnesota, no matter how UofM or Team USA Minnesota tries to sell it. The winters will always be harsh and unforgiving. But for natives, that hasn't mattered yet, and it likely won't matter in the future. Minnesotans, as Fitzgerald says, aren't the crying type. There is just training, and, "If you can train in a place that you love, that's where you'll be most successful," Anderson says. "When we don't get a ton of snow, it's not that bad."