Morton Games Becomes First Bring Back the Mile International Partner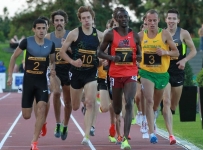 February 27, 2013
Historic Irish Mile attracts international talent each year including top Americans
By Bring Back the Mile & Morton Games
The Morton Games and Bring Back the Mile (BBTM) announce that they have entered into a partnership to support the storied Morton Mile, a race with a rich history going back the 1930s. The first international event partner for BBTM, the 2013 Morton Games in Dublin, Ireland will take place on Wednesday, July 17 featuring the Morton Mile and Women's International Mile.
"BBTM's mission is to elevate and celebrate the Mile, and our main focus is the United States, but we welcome the opportunity to grow the campaign beyond our shores by partnering with the Morton Mile, a truly historic event," said Ryan Lamppa BBTM Founder.
"This is an exciting development for the Morton Games and is an ideal partnership," added Noel Guiden, meet director of the Morton Games. "Both the Morton Games and BBTM are athlete focused with a particular emphasis on the blue ribbon event, The Mile."
The Morton Games features at the heart of its meet the Morton Mile, an event with a history dating back to the 1930s including the original Dream Mile in August 1958, when for the first time in history five men in the same race broke the magical 4 minute barrier.
Over the years the Morton Mile has attracted the best milers in history including John Walker, Steve Scott, Kip Keino, Eamonn Coghlan, Marcus O'Sullivan, Ray Flynn, Steve Ovett and Frank O'Mara. In 2012 the Men's race included Olympians Matthew Centrowitz (USA), Nick Symmonds (USA), Ryan Gregson (AUS) and Ciaran O'Lionaird (IRL)
The Morton Games for the first time in 2012 also featured a Women's International Mile, a race that attracted six Olympians fine-tuning their preparations for the London Olympic Games and that also produced a new Morton Stadium record from Nicole Schappert of the United States, clocking a fast 4:30.65.
Morton Games
The 2013 Morton Games takes place in the Morton Stadium Santry, Dublin, Ireland on Wednesday, July 17. This is an international track and field meeting which is promoted and hosted by Clonliffe Harriers A.C. in partnership with Athletics Ireland, the Irish Sports Council, The Irish Milers Club, Fingal County Council and the Morton Stadium.
Website: http://mortongames.ie
Bring Back the Mile
BBTM's mission is to return the Mile to prominence on the American sports and cultural landscape by elevating and celebrating the Mile to create a national movement.
Website: http://bringbackthemile.com