Nike campers to run exhibition Mile at Trials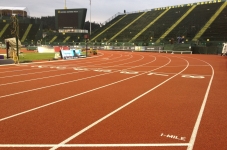 June 29, 2012
By Doug Binder, ESPN / Dyestat
The third Nike Elite Camp will bring together 20 top high school cross country runners and the program includes an exhibition Mile that will be held on June 29 at Hayward Field.
As a stipulation mandated by NCAA rules, the shoe-company sponsored event has to include a competition. The past two years, the runners were entered in a low-key 5K road race near Nike's corporate headquarters in Beaverton, Ore.
The elite high school exhibition Mile is one of several additional races that will be conducted during the Olympic Trials (June 21-July 1). Another race slated for the 28th, for instance, is a 100 meter dash for six U.S. military personnel who have sustained injuries, organized by the U.S. Olympic Committee Paralympic Military Program. There will also be a Special Olympics exhibition 100 that day.
The Nike Elite Camp is set to convene on June 26 and the athletes will get to watch some of the Olympic Trials in person as well on the 28th and 29th. The camp concludes on June 30.
Continue reading at ESPN.com