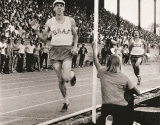 May 25, 2017
Without a doubt, though, the big, highly anticipated Mile race - Wottle vs. Pre - established this meet as the USA's must-see outdoor invitational.
By Jesse Squire, Citius Mag
The Prefontaine Classic might not exist without Bowling Green. I am not making this up.
I ran at Bowling Green...
Read More
comments