1973 Hayward Field Restoration: Prefontaine takes on Wottle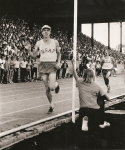 October 14, 2014
"I can remember just thinking that to me it was one person wins, one person loses, but he had the perspective that I wished I had. He kind of knew that often times, it's not you. It's your competitors and your coach and all the other things. It all mixes together to develop a world class runner." - Dave Wottle, 1972 Olympic 800m champion
By Jeff Hollobaugh, The Mercury-Chronicle
Tardis, anyone? Surely there are other track fans that fantasize about time travel—not just to pick winning lottery numbers, but to drop in on track meets they wish they had seen. The 1973 Hayward Field Restoration Meet would be one of those. The main event would be a Mile race between Steve Prefontaine, nearing the height of his abilities and still burning with the disappointment of his 4th place finish at the Munich Olympics, and Dave Wottle, the ultimate racer who had left Munich with a gold medal that Pre only dreamed about. Yet this was more than just a race—to Wottle it was an eye-opening experience about what it takes to be a class athlete.
This event was set up at to raise funds to rebuild the west grandstands at Oregon's historic track. According to Tom Jordan in his classic book Pre, the organizers put it together with just five days notice.
Some of the history of the Mile matchup appears to have gotten tangled, as the Oregon track website says, "In a rare appearance as a rabbit, Prefontaine paced '72 Olympic 800 gold medalist Dave Wottle through an attempt at the American record…" In other contemporary accounts, it reads as if this was a pure race between the two legendary runners. Which was it really?
Continue reading at: http://mercury-chronicle.com