Nikki Hiltz ready to build upon 2019 breakout year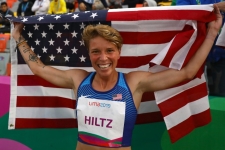 May 07, 2020
"I'm definitely now very driven to just kind of do it all over again, make the Olympic team and then make the final of the Olympics."
By Sieg Lindstrom, Track & Field News
What a difference a year can make. That's true by the truckload when 2019 and '20 are the benchmarks and Miler Nikki Hiltz—who is directing her energy for the moment to helping others (see)—does not disagree.
Last spring Hiltz, the '18 NCAA runner-up for Arkansas, was in her first pro year with coach Terrence Mahon's adidas Mission Bay group in San Diego (rebranded in January of '20 as the Golden Coast TC). Out of college, she says, "I really wanted to join a group 'cause if you're like a lone wolf and that works for you that's great, but I just know I'm someone that needs people to run fast and training partners. That's probably why I went to Oregon [after high school in Aptos, California] and [through transfer] to Arkansas, just because they had such good programs.
"So I was looking for a group and Terrence reached out to my agent [Hawi Keflezighi] and then I got in touch with him and I think we just kind of clicked right away. You know, I'm from California and he's from the LA area and he was just like, 'Hey, I'm starting a group in San Diego. It would be awesome if you'd like to join,' adidas would be the sponsor and it just kind of checked all my boxes. I was really excited to move back to California and also to be a part of something new."
She assesses, "For a lot of my career I've just kind of gone with my gut feeling and I think it's worked out so far. I love it here and it's been really exciting."
She also knew that Mahon—while noted for his past work with marathoners and Olympians including his wife Jen Rhines, Deena Kastor and Ryan Hall—collaborated to great effect with a pair of Mile standouts a decade ago: Morgan Uceny PRed at 4:00.06 and World Ranked #1 in '11. In '09 Anna Willard raced 3:59.38 and World Ranked #6.
Both on the track and in road outings last year Hiltz rolled in the same direction. In her first '19 outdoor meet she cut her 800 best by 3.79 with a 2:01.37 win at the Clay Invitational. Four days later she won the USATF road Mile title, her 4:29.7 finish 1.7 ahead of accomplished street Miler Heather Kampf.
In June Hiltz dropped her 1500 PR to 4:05.56 in Portland. July saw her victorious over 1500 at the Sunset Tour meet and next taking that breakthrough step toward international competition. Tearing through the USATF 1500 final's spectacular last 100 to cap a 60.83 closing lap, Hiltz raced to 3rd and on to the World Championships team with another PR, 4:03.55. "It still doesn't feel real that I went to Worlds and represented our country and I was 3rd at that race," she says.
"When I think back to that day, on the start line I really didn't know. Obviously I knew I could do it, I knew that I could be top 3, but it wasn't like, 'Oh, I'm going to do this.' It was just kind of like, 'OK, I'm going to do my very best and hopefully that will get me top 3.' But it wasn't until 300 to go, like 3 laps later from that starting line, that I was like, 'Oh, OK, I can make this team.'
"I just felt really good with 300 to go and I had just so many more gears left in me that I was like, 'OK, I can run with anyone right now,' you know. And then with 100 to go I think I was in the worst position I've ever been in with 100 to go, but it was something inside of me that, 'I'm going to find a way to get 3rd,' and the inside lane opened up and I took it and I just put on the gas and it was good enough to squeeze by Kate [Grace] and Sinclaire [Johnson] and snag that third spot."
Continue reading at: trackandfieldnews.com