NYRR Fifth Avenue Mile, Q&A with Jenny Simpson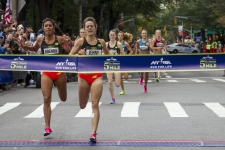 September 15, 2014
"Winning today solidified that I was able to keep the whole season together, be strong from the beginning to the end."
By Elena Dyachkova, RunBlogRun.com
The 5th Avenue Mile is my favorite road race, by far, and one of my favorite competitions whatsoever. It is special in so many aspects. Premium location - in the heart of Manhattan, along Central Park's eastern side, the course goes past the Guggenheim Museum and the Metropolitan Museum, which guarantees an impressive exposure to hundreds of tourists, strolling around the streets of the Big Apple on a Saturday afternoon. Great race weather, it's no secret that autumns in New York are often way more pleasant than its hot and sticky summers. The very end of the track season, which makes athletes feel more relaxed and helps to gather on the start line representatives of various events: 800m, 1500m, 5000m, even steeplechase. And, of course, the hospitality of New York Road Runners Pro team, that makes all athletes feel like home.
This year, the race was missing some of its previous editions' stars. Bernard Lagat, Nick Willis, Leo Manzano, Gabriele Grunewald, Susan Kuijken were busy representing their respective teams at the IAAF Continental Cup. But the fields for both men's and women's races were still as deep as it gets. 2013 World medalists Jenny Simpson and Brenda Martinez, World and Olympic medalist Sally Kipyego, NCAA champion Lawi Lalang, World Indoor medalist Augustine Choge, as well as very dangerous road Milers Garrett Heath and Heather Kampf. Alberto Salazar, who was at this race for the first time, brought four athletes from his group - the newly crowned World Junior champion Mary Cain, Jordan Hasay, Treniere Moser and Matthew Centrowitz.
(And yes, Mary and Jordan didn't escape a post-race workout in Central Park in preparation for the next week's USA 5K Championships).
You probably have already read numerous race reports, so there is no need to describe the action in detail. Both races were close and competitive from the gun to the finish. in the men's race, Oregon Track Club's Jordan McNamara snatched the win from Heath on the very last meters of the course (3:51.0). McNamara was getting ready to win the national title back in June, when he got injured and had to miss not only the USA Championships, but also some valuable time of training and action. In his first race back - High Performance Meet in Eugene on July 26, he got the win and showed how hungry he was for more. Seems like McNamara was able to maintain that attitude and that victorious shape since then.
In the women's race, Jenny Simpson was a pre-race favorite, coming off two 1500m Diamond League Wins and a 3000m PR in Brussels, set just about a week ago. Simpson led from the start to the finish, putting the half-mile $1000 bonus in the bank on the way. She had a number of rivals right on her shoulder at all times, but was never challenged for the lead, and crossed the finish line first in 4:19.4.
Irish runners had a blast at this year's race. Ciara Mageean and Paul Robinson took third places in 4:21.2 and 3:51.1, respectively, with an Irish journalist Feidhlim Kelly, the reigning European media 800m champion, taking the media Mile.
But the 5th Avenue Mile doesn't end, when the last elite race ends. Stellar runners stayed at the finish line to cheer for dozens of kids, who ran this Mile in the last heat of the day, and then migrated to the "selfie station" to take multiple pictures for Instagram posts. And then - the post-race and end-of-the-season dinner party, which may or may not have ended with some karaoke...
Anyway, no one can explain what's special about this race better than the three-time champion Jenny Simpson.
Continue reading at: runblogrun.com