Simpson Delivers, McNamara Surprises on Fifth Avenue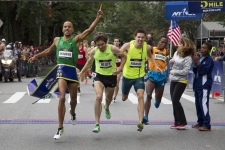 September 13, 2014
Record 14 women break 4:30 in the same Mile race; 15 men go sub-4; world's largest road Mile draws 5,610 finishers who race down storied thoroughfare
From NYRR
NEW YORK – Jenny Simpson had all the momentum—and the pressure—when she lined up for the 2014 NYRR Fifth Avenue Mile late Saturday morning. She's the reigning Diamond League 1500 meter champion and the second fastest American ever at that metric Mile, and the defending event champion. But with 2012 race champion and Brenda Martinez, hometown favorite Mary Cain, and 15 more world class women in the field who'd be keying off Simpson, the race looked ripe for an upset.
Simpson, 28, didn't flinch. At the starting horn, she went straight to the front. A phalanx followed closely—until 200 meters to go, when Simpson built a three-meter lead. It looked like a wire-to-wire win, until Martinez' fierce sprint brought her to Simpson's shoulder. She got no further, and Simpson crossed the line in 4:19.4—the sixth-fastest time in the race's 34 editions—to hold off Martinez by two-tenths of a second and become the first three-time women's winner in the event's history. Newcomer Ciara Mageean of Ireland took third in 4:21.2. A record 14 women clocked sub-4:30 in same race (road or track).
"It's loud. The road is different than the track," said Simpson. "I knew to save one final push for the last two blocks. This event is feeling like a tradition to me, and I hope to be back."
The men's race, which preceded the women's finale, was less predictable. U.S. Olympian and 2012 Fifth Avenue champion Matthew Centrowitz was favored, but Kenyans Augustine Choge and Lawi Lalang were clear threats. The two Kenyans went out hard, and Lalang led at halfway with Centrowitz one step back. But at three-quarters, Garrett Heath of Seattle, made a bold move to the front. He almost stole the victory, but a mass sprint put the outcome in doubt until the final few strides, when Jordan McNamara of the Oregon Track Club Elite darted past Heath to win in 3:51.0. Heath was given the same time, and Ireland's Paul Robinson was third in 3:51.1. Fifteen men broke the coveted 4 minute mark.
"I tried to time it right," said McNamara, 27, who also won a close GNC Live Well Liberty Mile in Pittsburgh. "Once you get excited, cool things can happen."
In the fourth annual media race, media members from across New York City including television and radio producers and on-air talent, and newspaper and magazine writers and photographers, competed to earn the coveted title of the City's fastest media Miler. The Wall Street Journal, NY 1 News, Runner's World, Live! With Kelly and Michael and The Colbert Report were among the more than 20 outlets in attendance. Feidhlim Kelly of The Irish Examiner was the overall winner of the media race in a time of 4:27. The first female finisher, Megan Hetzel of Runner's World, finished in a time of 5:36.
The event also encompassed numerous heats of runners of all ages and abilities including age group races ranging from 15 to 70-plus, a kids race, wheelchair race, and more. Overall, there were 5,610 finishers.
34th NYRR Fifth Avenue Mile
New York, NY, Saturday, September 13, 2014
MEN
1) Jordan McNamara (USA / OR), 3:51, $5000
2) Garrett Heath (USA / WA), 3:51, $3500
3) Paul Robinson (IRL), 3:52, $2500
4) Augustine Choge (KEN), 3:52, $1500
5) Ryan Hill (USA / OR), 3:53, $1000
6) Matthew Centrowitz 9USA / OR), 3:53, $750
7) Daniel Huling (USA / OR), 3:53, $500
8) Kyle Merber (USA / NY), 3:54, $250
9) Lawi Lalang (KEN), 3:54
10) Ciaran O'Lionaird (IRL), 3:55
11) David Torrence (USA / CA) 3:56
12) Will Leer (USA / CA). 3:56, $1000*
WOMEN
1) Jenny Simpson (USA / CO), 4:20, $6000*
2) Brenda Martinez (USA / CA), 4:20, $3500
3) Ciara Mageean (IRL), 4:22, $2500
4) Heather Kampf (USA / MN), 4:22, $1500
5) Ingvill Makestad Bovim (NOR), 4:22, $1000
6) Morgan Uceny (USA / MA), 4:22, $750
7) Hannah England (GBR), 4:24, $500
8) Jordan Hasay (USA / OR), 4:24, $250
9) Treniere Moser (USA / OR), 4:25
10) Mary Cain, 18, USA / NY, 4:26
* includes $1000 halfway bonus
Complete results and more can be found at: nyrr.org