Olympic medal puts Oviedo's Jenny Simpson on different level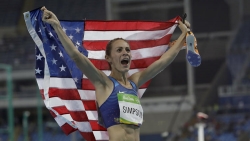 September 14, 2016
"I had a period of time to let the Olympic experience settle on me. When everyone is saying, 'This is such a big deal; we are so excited for you,' I feel like I had a better sense of, 'This is a really big deal.'"
By Stephen Ruiz, Orlando Sentinel
It has been nearly a month since Jenny Simpson stood proudly in Rio de Janeiro, Brazil, the fulfillment of a dream confirmed by the podium underneath her feet.
The former Oviedo High distance runner beamed on higher ground after earning her first Olympic medal, a bronze in the 1500 meters (and the first by an American woman in the Olympic metric Mile). Simpson, 30, has been a high school state, college national and professional world champion, but this was different.
She knew it, as did her father, Bruce Barringer.
"From the community response and the family response that he had gotten from my performance, he said he thinks more people watched my race at the Olympics than probably all of the other races in my life, combined,'' Simpson said. "This is just on a different kind of exposure level.''
Continue reading at: www.orlandosentinel.com