Q&A with Blake Boldon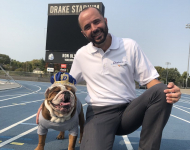 April 09, 2021
This year, our ability to successfully execute the Drake Relays, the USATF 1 Mile Road Championships again and also the Virtual Grand Blue Mile with a standing LOC ready to host is deeply embedded in our culture.
By Bring Back the Mile
We recently had a chat with Blake Boldon, Franklin P. Johnson Director of the Drake Relays, about the 2021 Virtual Grand Blue Mile, the impacts and lessons of the pandemic on the Drake Relays and its culture and the upcoming USATF 1 Mile Road Championships.
This year's national championships will be held on Wednesday, April 21, in conjunction with the 111th Drake Relays presented by Xtream powered by Mediacom and the Virtual Grand Blue Mile presented by Wellmark Blue Cross and Blue Shield. In Des Moines, Sam Prakel and Emily Lipari will defend their road Mile titles against top fields vying for a $15,000 prize purse and finishing on the famed Blue Oval inside Drake Stadium.
BBTM: You've been a busy man. How is it going from NCAA competition and your athletes to now putting on your race director hat? How do you balance all that?
Blake: Still working on figuring that out. This year has been a tough, challenging year. I think it's a tough year for everybody for a lot of reasons. But it's a lot to balance under normal circumstances, but the demands are especially high right now.
Drake Relays aside, what is your primary role as the Acting Director of Drake's Track & Field program?
The best way I'd say it is, I'm coaching the coaches, helping set the culture and managing the program.
Congrats on Drake's indoor success, particularly Adam Fogg who finished 4th in the Mile at the recent NCAA Indoor Championships.
Adam Fogg was just on fire. And he's running very well, but then he also has some natural gifts in his ability to find a spot in a race, find the right moments in a race to make a move. He's just got an intuition that not all athletes are gifted with. So terrific and fun to watch Adam go sub-4 several times indoors.
Let's pivot here to directing events. Last year, didn't Drake host the first professional track meet, including the USATF 1 Mile Road Championships?
Yeah, the Drake Blue Oval Showcase last summer on Saturday, August 29. In 2020, it was the only permitted World Athletics permit event that took place in NACAC.
I don't know this for sure, but after the world came to a pause in March thanks to COVID-19, I don't know what other USATF Championships there were on the road, cross country or on the track, but I think we may have been the first of any kind, in addition to the permitted track meet that we had with no spectators, heavy restrictions. At that point in time, as we were planning it, not only was the world completely at a stand still, or so it seemed, the compiled knowledge base of this virus was limited. Face masks, face shields, changing a tarp between every vertical attempt, and then disinfecting it, having it dry were safety protocols. We were hyper-sensitive and extraordinarily cautious. Now with the familiarity we have all unfortunately come to learn about the virus, precautions, the mitigations and then of course the significant improvement in access and sophistication of testing, that we don't necessarily have to use those same protocols now.
You mentioned earlier, how your role is to create culture. What is it about the culture there at Drake that enables your team to pull all that off and also what you're doing this year?
Last night we had our first logistical official Zoom, for a very small home meet that we're hosting this weekend. Just a few teams, limited events, pretty small scale, but we have more than 100 in attendance. And I asked that group, "What makes Drake special?" And I think what makes any place successfully host track & field events specifically, but especially true at Drake, is the commitment, professionalism and overall knowledge base of our officials. And with all of the challenges that we've had in 2021 and really all of 2020, and then into 2021, the preparation of our officials, organizing that, has been the easiest of everything we've done.
Their willingness to step forward, their eagerness to support, their offering of personal expertise, their professional expertise, in addition to their efficient expertise, makes it very easy to step into a track & field meet and not have to worry about successfully executing a competition. And there are a lot of places in the country where you can't take that for granted. Here in Des Moines, it's easy to take that for granted, because our officials are so good and also so willing to support the program.
The legacy of the Drake Relays is hosting high-profile events, and that transitioned to our preparedness last summer. This year, our ability to successfully execute the Drake Relays, the USATF 1 Mile Road Championships again and also the Virtual Grand Blue Mile with a standing LOC ready to host is deeply embedded in our culture.
During our conversations over the years, it's the theme of partnership, cooperation and community that resonates strongly in Des Moines that you're talking about right now with the officiating, to the sponsorships and everything in between. Wellmark Blue Cross and Blue Shield again have been very involved with the Virtual Grand Blue Mile and the USA Road Mile Championships. With a healthcare company as one of your sponsors, has that provided some knowledge and a certain level of comfort in dealing with COVID and the pandemic as well as the protocols that are necessary?
In their role, their emphasis, Wellmark Blue Cross and Blue Shield unflinchingly committed to the health and well-being of our community. So they've been an incredible partner to think about the best way to safely get people active, get people moving. And the Virtual Grand Blue Mile is at the core of that, and really speaks to their commitment to our community, and then the opportunity to take the sport of track & field and distance running into quite literally every workplace, every living room, every gym, every playground in the state of Iowa, and far beyond. Also, with our partnership with Wellmark and Bring Back the Mile in the promotion of our virtual event, we nearly have a registration from all 50 states. It's really taken off with this $10 price point and gone well across the country.
It is the best virtual deal out there. Shirt, bib number and you're also associated with USA Road Mile Championships, the history of the Grand Blue Mile. If you love running, you're signing up for this, and you're doing the Virtual Grand Blue Mile.
Yeah. If you love track & field and you want to spark an interest in young kids, it's a really easy thing to do for 10 bucks. And today we got approval of a fun pack that's being created to be inserted in addition to the shirt and the bib with some neat coloring book activities for kids and a finish tape for folks to pose for photos. We hope to set a new standard for a virtual event.
And the virtual event also benefits the Iowa Kidstrong fitness program, and the support that Wellmark Blue Cross and Blue Shield provides in that regard is fantastic.
That's right, and to see local kids every year get excited and engaged in this sport for the first time is exciting. On a national level, to see elite level athletes use their platforms to talk about running, and talk about our event, and continue to spread that good message that it's a sport with equal access, equal opportunity for all. And this year more than ever, with our slogan: your race, your pace, your place, that really brings it to life.
For those in the area, any level of spectating along the national championship course?
We are working on those details and on what a plan might look like to have some limited capacity and limited spectators in the venue. We can naturally social distance from the competition itself, and with a venue that seats close to 15,000 folks, we can accommodate some guests to watch the last 600 meters of each of the two pro races.
Our legendary announcer Mike Jay will be here to make the call with live splits from the course.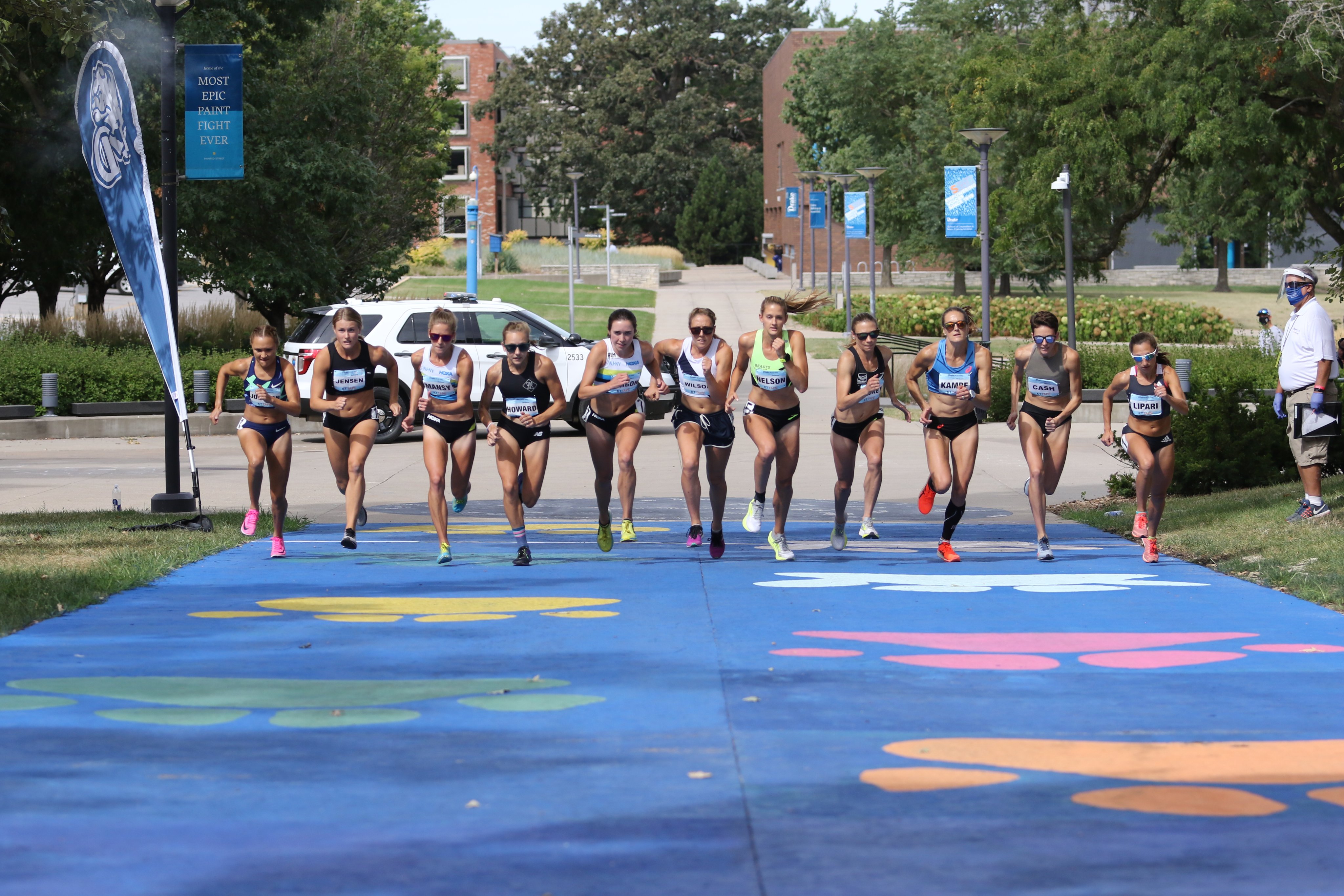 The race starts on an iconic part of Drake's campus, the Painted Street, which every year is painted on Relays week by our Student Activities Board. It's a student activity, a big celebration, that happens every year, excluding 2020, for the last 40, 50 years.
This year, they're going to have each of the student groups get a block. They'll paint it in succession. It will be much more contained and less of a social event, but it will be freshly painted right before Relays week, ending on Friday, April 16. And then the following Wednesday, April 21, we'll start at the base of Painted Street, head west through campus, and then loop into the stadium with 600 meters as a track race. It's a downhill course, a fast course, where tactics definitely play a role as they come into the stadium. And last summer on that course, both the men and the women came onto the track in tight packs, and the guys ran in the range of 55 seconds for that last lap.
This year, Prakel and Lipari return as defending road Mile champs against top fields, and to provide opportunities for athletes to compete in a USA Championship to not only win prize money, but many have sponsorships and bonuses tied to their placements at USA Championships is vital for the sport to thrive. Hat off to the Grand Blue Mile, Wellmark and the Drake Relays again hosting and supporting this national championship.
Thank you. And, last year, and again this year, it really is a testament to the resilience of the sport, but moreover, it's a testament to the resiliency of the athletes. They're ready to go. They're training hard. We've seen it every time there is a competition, although the opportunities are limited, the performances are almost unlimited.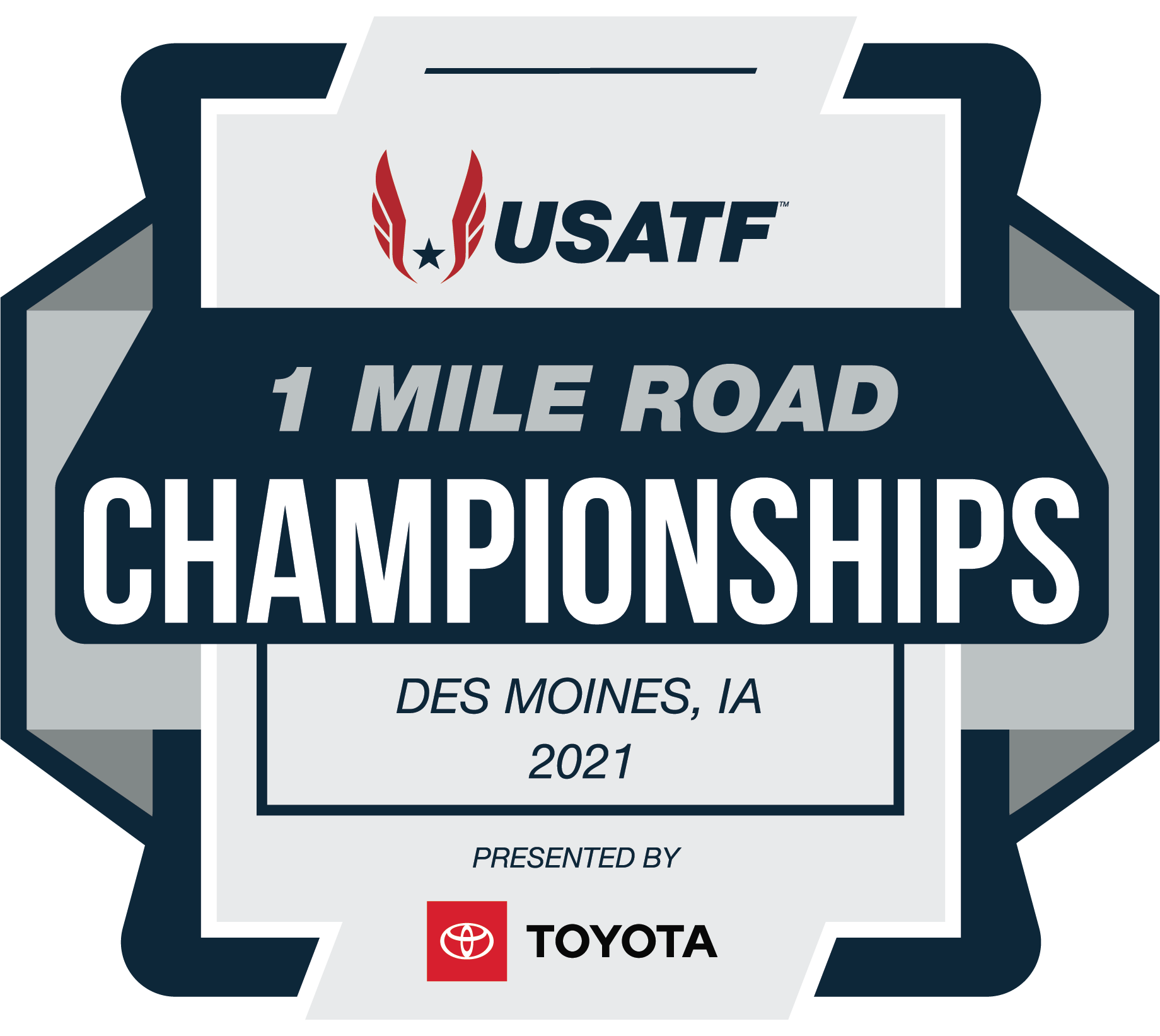 Whether it's the collegians, the pros, domestically, internationally, and we know this April will be no different. What makes our opportunity unique is that we'll have 1500, a few days later in the stadium. For some athletes, it is an ideal opportunity, not just to race in a USA Championship and then a World Athletics permit event, but to also have two competitive efforts in the span of three days to simulate what will happen at the Olympic Trials later this summer, and in other races down the road.
That's a really good point, because the success of athletes in the last year in a lot of these time trial events has been astounding. But you're going to have the Olympic Trials. You're going to have the Olympics, you have rounds that a lot of these athletes just are not accustomed to right now. So to have that opportunity as well is invaluable.
Since the pandemic, most have had limited opportunities to race, mostly as time trials or small competitions. But I don't think that there have been many tactical races, and certainly very limited opportunities for people to run rounds and run multiple competitions in one trip. So I think that's also drawing some of the top U.S. athletes here.
Reflecting on the past year, what are some of the lessons learned during this pandemic that you feel that you will apply for the rest of your career?
Well, I'll say every year, this time of year, March and April, I have felt nearly overwhelmed, completely extended. But this year at times, I've wondered what in the heck I was worried about before because I just have so much more on my plate. If this year were my first year or my second year, rather than my fifth, I don't know how I would do it. But more than anything, I think I've learned to truly appreciate those who do the work around me.
And to offer more trust, empower them more. Particularly as I've already referenced our officials. Those people whom I work with on a regular basis, that I know and I can trust, and know their professional and personal expertise. For example, our officials coordinator Jim Walchuk, I've told him multiple times, and I've said this to Carolyn Hill, who's stepped in this year as a special director of the Drake Relays, and several other folks, that I'm able to sleep at nights because I know that I don't have to worry about certain areas. They help to keep us on track.
I'm optimistic that the 2021 Drake Relays will be very successful, and later, I'll be ready to recharge and regroup and apply how we can get the event back on its traditional track, flourish in the university division, continue to host the elites in the Mile and support the professional track & field meet. And to go back to celebrating those high schoolers too.
Putting on these meets is a major undertaking with many moving parts to manage and coordinate smoothly. Kudos to your team for not only pulling off last year's August event, but building off its success and making it bigger & better this year as well as providing opportunities for Milers and a lot of professional track & field athletes.
Thanks. We're excited, not just for 2021, but also for 2022 and beyond. We know the athletes are going to come and it's going to be one for the record books.
It's a big year, an Olympic year, and that excitement will start to come back when Lipari and Prakel race to defend their titles and track & field fans return again to Drake Stadium to watch magic happen again on the Blue Oval. It's time to have some fun!
That's exactly right. And we're now just three weeks away.
Blake, it's always a pleasure. Thank you for your time, and here's to a successful 2021 event.
Thank you.