Roger Bannister Remembers His Mile Milestone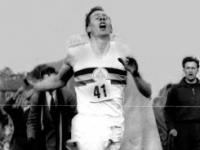 March 01, 2012
By Stephen Wilson, Associated Press
OXFORD, England – Roger Bannister remembers those fabled four minutes as if they were yesterday, still as vivid in his mind today as that blustery late afternoon more than half a century ago.
Like a proud patriarch regaling his wide-eyed grandchildren, the 82-year-old Bannister avidly recounts that magical four-lap race on a cinder track in Oxford in 1954 that still stands as a transcendent moment in sports.
Three minutes, 59.4 seconds.
Continue reading at www.usatoday.com