Run This Race: The Monumental Mile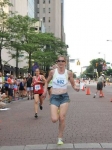 May 22, 2017
Celebrate the fact that you have run the most glorious distance in all of running!
By Jill Geer, ​Beyond Monumental
With all due respect to other distances, there are exactly three glamour events in running: The 100 meters, the Mile, and the marathon.
The marathon takes months to train for, can be foiled by an injury at any point, and a miscalculation or bad luck on race day can lead to heartbreak or hours of suffering, with no chance for redemption for another few months. The 100 meters – at least for a person of my age – is likely to result in hospitalization for a lower-extremity rupture of some sort.
But the Mile – the sweet, sweet Mile … the Goldilocks of running … it's not too hard, and not too soft. It's juuuuuuuust right. For everybody.
In a running world gone mad over marathons, half-marathons and 10Ks, the greatest treasure in all of running lies right under your nose and at the northern cusp of Monument Circle: The Mile. Specifically, the Monumental Mile, which roars, jogs and walks down Meridian St. on Thursday, June 1 In downtown Indianapolis.
Continue reading at: www.beyondmonumental.org