Seyaum, Gebremeskel Win B.A.A. Invitational Mile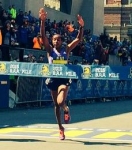 April 18, 2015
Women's winner Dawit Seyaum, just 18, sets event record at 7th edition on Marathon Saturday
From Boston Athletic Association
BOSTON - Seeking shelter from both a headwind and her own inexperience on Saturday morning, Dawit Seyaum ran the first loop of the B.A.A. Invitational Mile tucked in behind Morgan Uceny. After all, the 18-year-old from Ethiopia had never run a road Mile before, while Uceny was a three-time defending champion here.
"After the first time around, I was confident," said Seyaum through a translator. "I thought maybe it was better for me to push."
And push she did. Seyaum, the 2014 IAAF World Junior Champion at 1500 meters, took a slight lead as the pack began the last of three loops, starting and ending at the Boston Marathon finish line, and by the final turn toward home the young dynamo was fully in command of her elders. Seyaum's winning time of 4 minutes, 35.4 seconds smashed the course record of 4:38.6 set by Anna Willard in the event's inaugural year of 2009.
"It was a very good race," she said, smiling shyly. She will return to Addis Ababa $3000 richer for her efforts and with warm memories of a cheering crowd that, her translator said, surprised and delighted her.
Although denied her fourth victory, Uceny sounded upbeat afterward. "I was really happy with the race up until the final 100 meters," said the Boston-based athlete who in 2011 was ranked #1 in the world at 1500 meters. "The monkey definitely got on my back. It was a bit of a different feeling in this race; usually I come off that last turn feeling really strong. But it was a little faster race than in the past and I felt really good in the front so I wasn't going to slow down. Dawit got a really good jump on me to take the lead and I still felt like I was able to stick with her, but didn't quite have it down that last stretch."
Although Heather Kampf passed Uceny in the final meters to take second in 4:37.0, Uceny's third-place time of 4:37.7 was six seconds faster than her previous best time in this race.
Seyaum, likely to be a force for years to come, is lacking in neither talent nor ambition. With a 1500m personal best of 3:59.53, making her one of only four Junior women in history to break 4 minutes, she was asked about her goals for the rest of 2015.
"3:57," she replied.
The fastest time in the world last year by a woman of any age? 3:57.0.
Men's Race: Dejen Dominates
By any running enthusiast knows that Boston is all about tradition, and the tradition of excellence in the B.A.A.'s middle distance events - held on Marathon Saturday - is now as firmly entrenched as any of those in Monday's Marathon. Olympic silver medalist Dejen Gebremeskel added his name to the list of illustrious winners of the event, winning the B.A.A. Invitational Mile title, clocking 4:04.1.
This was the one to watch. A field of seven world class Milers, hammering around the streets of Back Bay. It's a sight to see, and it sure was today. All the more so for the manner in which Ethiopia's Dejen Gebremeskel – a two-time B.A.A. 5K champion and 4-time Carlsbad 5000 champ - gave his more fancied peers a lesson in road Miling. Gebremeskel, indeed, had never raced this distance on the road before, although his Olympic 5000m silver medal and 12:46.81 PR made him fearsome enough in any medium.
Even so, it was interesting to see the lithe Ethiopian surge to the front of the field and stay there, holding a stride lead after one lap (1:23) and five meter gap after two (2:44). In his wake were five-time Arkansas All-American Duncan Phillips; European 1500 bronze medalist, indoors and out, Chris O'Hare; two-time Baylor All-American and Welsh Commonwealth Games representative Chris Gowell; Oklahoma All American Frezer Legesse; plus BAA sub-4 competitors Steve Mangan and Dan Lowry. In a nutshell, it was a field of thoroughbreds.
Thoroughbreds like to run, and Gebremeskel made sure of that. Nobody was going to wrest this race from him without a struggle. "I wanted to see if I was quick," he said later.
Even so, with one lap remaining, nothing was assured. Gebremeskel looked powerful at the forefront, but O'Hare looked threatening - and had serious wheels - and Legesse appeared intimidatingly comfortable. Around the final lap, though, it all made little difference to Gebremeskel. He had the lead, he wanted to keep it, and that was all there was to it.
Around the final lap, Gebremeskel upped the tempo still further allowing the chasing group no hope of making any inroads. Back onto Boylston Street, he surged one more time, breaking the tape in 4:04.1, his winning margin having stretched to almost three seconds. O'Hare powered home to take runner-up (4:07.0) with Legesse landing third in 4:08.1.
For his victory, Gebremeskel earned a cool $3000, with O'Hare claiming $2000 and Legesse $1000.
Legesse was asked what he thought of his race. With a broad grin he simply replied, "Lots of fun."
With that, he spoke for all.
For complete results and more, go to: www.baa.org