Summer Miles Series debuts in High Point on June 22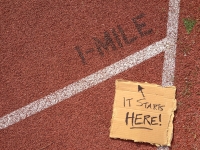 June 15, 2019
"Everybody at some point in time has run a Mile, whether it was in middle school or high school gym class. And it's something that everybody understands."
By Eddie Wooten, News & Report
"How fast can you run a Mile?"
How many times have you been asked that?
Here's a chance to find out in a racing environment.
The High Point Athletic Club is introducing the Summer Miles Series, and the first event will be held on Saturday, June 22 in High Point. Competition will begin at 7:00pm at Aderholdt Track at the High Point Athletic Complex, 2920 School Park Road, High Point.
The event is the brainchild of Brandon Hudgins, 32, a two-year resident of the Triad (Jamestown) and a former collegiate runner at Winthrop and Appalachian State.
"As I have gotten plugged into the community here, both running and the actual community, I saw an opportunity to host a unique event, one that the Triad area just doesn't have," says Hudgins, who is getting help from Fleet Feet Sports speedster Stevven Anderson.
Here are five reasons you should consider entering this event:
1) The magic of the Mile
Roger Bannister, running the Mile in Oxford, England, on May 6, 1954, became the first person to break 4 minutes. While many others have gone on to do that, while Hicham El Guerrouj's 3:43.13 still stands as the world record nearly 20 years later, Bannister's feat remains an iconic, still resonating human achievement.
Hudgins, the race director, is one of fewer than 550 Americans who have broken four minutes, doing it in 3:59.67 at the Sir Walter Miler in Raleigh in August 2015.
Continue reading at: greensboro.com