Teen phenom Cain keeps up with 1500 field at nationals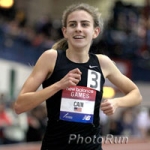 June 22, 2013
Can 17-year-old record setter earn first Team USA senior berth for World Championships in Moscow?
From AP wire
DES MOINES, Iowa — In many ways, Mary Cain is just your typical high school kid, taking great pride in getting her yearbook signed by all her friends and asking to go to a water slide after workouts.
On the track, though, she's anything but your typical high school kid as she keeps pace with the top U.S. 1500 meter runners at track nationals this week. She's also daring enough to believe that, even at 17-years-old, she can earn a spot to worlds in Moscow later this summer.
"Of course, Moscow is on your mind," said Cain, who advanced to the final on Saturday courtesy of finishing second in her heat on the opening night of the USA Outdoor T&F Championships.
The effervescent soon-to-be senior may be the next big name in women's middle- and long-distance running (she does both equally well), the one everyone expects to turn into the next Mary (Decker) Slaney.
Not that Cain of Bronxville, N.Y., gives it much thought. She's more concerned about whether she will take a ceramics class next fall.
At nationals, she also signed up to compete in the 800 and 5000 — not because she was going to race in all of them, but simply so she could make up her mind at the last moment which one would give her the best chance to make it to Moscow.
So far, so good for her in the 1500, where she followed training partner and veteran Treniere Moser most of the race on Thursday to advance to the final.
"This was amazing!" she exclaimed.
Continued reading at: http://bostonherald.com