The Evolution of Jenny Simpson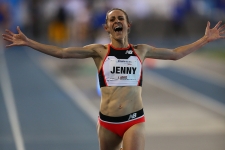 March 20, 2019
Rio Olympic bronze medalist and Mile star shares her secrets to success when it comes to getting older, wiser—and faster.
By Sarah Wassner Flynn, Women's Running
It's a Thursday afternoon in December, and Jenny Simpson has just finished up her first run of the day near her Boulder, Colo., home. Refueling with a cup of Siggi's yogurt (her absolute favorite), she tops it with a handful of ginger-molasses granola from the Run Fast, Eat Slow cookbook—which just so happens to be co-written by a good friend of hers, Shalane Flanagan.
"That sounds very domestic of me," Simpson jokes about her homemade topping. "I'm not usually someone who just whips up a batch of granola. I just love their recipes."
While Simpson may not be a domestic goddess (she leaves most of the cooking and cleaning to her husband, Jason), there is no denying her super-hero status on the track. One of the most decorated middle-distance runners in U.S. history, Simpson's resume is as shiny as the gold medal she picked up at the 2011 World Championships in the 1500 meters. A three-time Olympian (in 2016, she earned a bronze in the 1500 meters), Simpson is the current American record holder in the 2 Mile and has a record-setting seven straight victories at the prestigious Fifth Avenue Mile to her name.
And that's just her post-collegiate career. Prior to going pro and signing with New Balance in 2010, Simpson—then Jenny Barringer—was a NCAA steeplechase star at the University of Colorado and a high school phenom from Florida before that. (Last year, Oviedo High School named its track in honor of its uber-accomplished alum.)
Indeed, Simpson has been a force on the running scene since some of her youngest competitors were still in grade school. But at 32, she swears she's not slowing down. After all, there are more records to chase. And oh yeah, an Olympic gold to grab, too.
Staying ahead of the curve
Simpson says she's doesn't put much thought into aging, but she admits to a brief moment of panic a couple of years ago as one very big birthday loomed large.
"I was pretty anxious for 30 because that's the age when people start to think 'Oh, you're getting ready to be done,'" she says of her running career. After all, a former track rival of Simpson's, Morgan Uceny, retired in 2016 at 30, and Olympic medalist Sanya Richards-Ross was 31 when she retired from track in 2016. "Then I looked at the calendar and realized that my 30th birthday was right around the time of the 1500 meter finals in Rio. And all I could think of was, 'I cannot be watching that final at home, on the couch, on my birthday. I have to be there.'"
Continue reading at: womensrunning.com