The Louis Zamperini Interview: Unbroken and more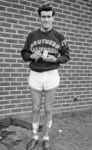 June 01, 2011
'King of the Mile' Glenn Cunningham was a real hero of mine... he did the impossible. He was burnt as a child from his arms to his legs to his feet to his back and the doctors said he would never walk again.
By Gary Cohen, GaryCohenRunning.com
Louis Zamperini placed eighth in the 5000 meters at the 1936 Berlin Olympics in 14:46.8 where he was a roommate of Jesse Owens and met Adolph Hitler. Louis qualified for the Olympic team in his second time ever racing 5000 meters, tying for first place at the 1936 Olympic Trials with Don Lash. He was a two-time NCAA Mile champion in 1938 and 1939 at the University of Southern California, his NCAA meet record of 4:08.3 lasting 15 years.
Louie was the California State Mile champion in high school and in 1934, he established an interscholastic record of 4:21.2 which stood for 19 years. His Personal Records are: 880y – 1:53.2 (1938); 1500 – 3:52.6 (1939); Mile – 4:07.9 (1940); 2 Miles – 9:12.8 (1939); 5000 – 14:46.8 (1936). In 1941 Louis joined the Army Air Corps, his plane was shot down in 1943, he survived 47 days at sea and was a prisoner of war for two years. Captain Zamperini's awards include the Air Medal with three oak leaf clusters; the Purple Heart with oak leaf cluster; the Philippine Liberation Medal; the Asiatic-Pacific Campaign Medal and American Campaign Medal with battle stars. After World War II he became a Christian speaker, was founder of Victory Boys' Camps for delinquent children and remains a youth counselor at his church. Louis carried the Olympic Flame in the torch relay in 1984, 1996 and 1998.
He co-wrote a book entitled, 'Devil at My Heels,' and is the subject of the bestseller, 'Unbroken,' by Laura Hillebrand. Louis graduated from Torrance High School and the University of Southern California. Locations bearing his name are Zamperini Stadium at Torrance High School, Zamperini Airfield in Torrance, and Louis Zamperini Plaza at USC. The 94-year-old resides in the Los Angeles, California area and was married to Cynthia Applewhite for 55 years until cancer took her in 2001. They have two children, Cissy and Luke.
GCR: How did the toughness of your childhood growing up in the depression as a rebellious adolescent and the guts needed to run strong serve you when you were stranded at sea after your plane was shot down during World War II and as a prisoner of war?
LZ: Competition helps you all through life because that is what life is about. Competition one way or the other, and the best place to start is with athletics. Whatever situation happens you have to overcome it. Every time you overcome anything you, become more hardy. My key word is to be hardy. That's my generation from World War II – I don't like the term the 'Greatest Generation' but rather the 'Hardy Generation.'
GCR: What was the impact of your older brother, Pete, on you as a role model and as a guiding force during your teenage years?
LZ: He was a real inspiration. He loved me, wanted the best for me and I knew it and that made a lot of difference to me. Because of his dedication for me I wanted to give him my best. So I was really running for my brother and all of the records I broke and five years without losing a race was all because of my brother. To have a brother like mine who was totally dedicated to his little brother was very important. Of course you have to have proper training and a good coach. I lost my first race and my brother was going into coaching as he was going to college to Compton. I said that I didn't like to be beaten so he told me to watch your enemy at his school and write down everything he does, then come back to your school and do twice as much. That was good advice until he got his degree in coaching, became a coach and a then great coach. The first thing is you aren't going to be a great runner unless you are totally committed.
GCR: Did success as a runner come fairly easily in high school, what are some of your most memorable races and foes and what stands out from the race where you set the world's interscholastic Mile record that stood for nearly 20 years?
LZ: Every time I broke a record they were the easiest races of my life. The sportswriters were wrong as they said two guys from the Indian Institute set the pace for my record race, but they didn't set my pace. The year before I broke the state record in the 1,320 yards with a 3:17 and now I was a junior. My brother, Pete, instructed me to run my first three laps in 3:17 and then open up. So I did that and ran the last lap in 63 seconds to break the international scholastic Mile record. A week later I was running against the Pacific Coast Conference champion at 1500 meters and I won that one by 30 yards. My brother held a tape past the finish line at the Mile and told me when I hit the race tape to keep running to him and I ran a 4:15 Mile as a junior. I knew then that a high school kid could get down to 4 flat eventually.
Continue reading at: garycohenrunning.com