Track & Field News Interview: Matthew Centrowitz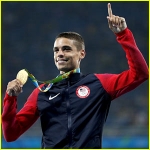 November 15, 2016
"First and foremost, I've always been a racer, a competitor. Even in high school I was never really good at chasing fast times. I just really like to compete, and I've carried that mentality throughout my whole career."
By Jeff Hollobaugh, Track & Field News
At the press conference following Matthew Centrowitz's Olympic 1500 victory, there was little in his demeanor to suggest that the 26-year-old Oregon alum had achieved the pinnacle of the sport. He was calm and controlled, much as he had raced. Yet he admitted to also being dazed by what had happened on that track. "As soon as I crossed the line I was still looking at the board like, 'Did someone go by me? Did I really just win?'"
To many U.S. fans, the 1500 gold matters more than any other. It was the Holy Grail, missing from American shores for 108 years, evading capture by every great American Mile star since Mel Sheppard struck the precious medal in London 1908.

Yet Centro — though he has never held an American Record — vanquished the world's best to bring the exalted medal home, adding to a pair of World Championships medals and sealing his claim as the most successful American ever in championship 1500s. Now that he has wrapped up his post-Rio break and celebrated his 27th birthday, Centrowitz has come to terms with what his victory means to him as he explained to us after a post-season vacation trip:
TFN: Did the time off help you to digest the immensity of your Rio performance?
Centrowitz: There are definitely some mornings where I wake up and I realize that I'm the Olympic champion and I kind of process what it means for me and what that has meant for my family, my coaches and everyone who has helped me along the way. It's really hard to put it into words.
Continue reading at: www.trackandfieldnews.com