Twin Cities In Motion Dedicates Medtronic TC 1 Mile to Boston Marathon Victims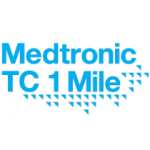 April 24, 2013
Downtown evening event on Thursday, May 9 to raise awareness, funds for Boston tragedy
ST. PAUL, Minn. – (April 24, 2013) – Twin Cities In Motion, the organizer of the Medtronic Twin Cities Marathon, is dedicating the upcoming Medtronic TC 1 Mile on Thursday evening May 9 to the victims of the Boston Marathon bombings.
The organization will donate 10% of each runner's entry fee to the victims of the attacks and match those contributions in an effort to raise $10,000 total. Participants in the event, which runs down Nicollet Mall in downtown Minneapolis, are asked to wear yellow and blue apparel at the race, the signature colors of the Boston Marathon, as a way of showing support.
"The entire running community feels the reverberations of the Boston Marathon bombing," Twin Cities In Motion Executive Director Virginia Brophy Achman said. "Naturally, we feel called to do our part to help heal the wounds caused by the attack. We wanted to give Twin Cities area runners a natural way to show support for the Boston community and contribute to its healing."
Twin Cities In Motion has also set up a fundraising platform to let people make one-time donations or utilize upcoming 2013 Twin Cities In Motion events to fundraise for Boston Marathon bombing victims. Information on donation options through Twin Cities In Motion can be found on the TCM Blog.
The 9th Medtronic TC 1 Mile is the fifth stop on the inaugural Bring Back the Mile Tour that includes 14 events and one end-of-the-year gala held across the country and throughout the year. Some 3,000 runners are expected to participate in the event which features seven separate waves of runners.
Racing kicks off at 6:53pm on Thursday, May 9 with the Friends and Family Wave. The event culminates with the Women's and Men's Professional Waves at 7:51 and 8:03pm. A $25,000 prize purse and a pair of $10,000 course record bonuses are at stake for the professionals.
About Twin Cities In Motion (TCM)
Twin Cities In Motion (formerly Twin Cities Marathon, Inc.) is the non-profit organization that provides nationally recognized, high quality running events throughout the year, including the Medtronic Twin Cities Marathon. With a mission of promoting healthy lifestyles through running events and community outreach, TCM and its charity partners contribute over $750,000 to related causes annually. For more information, visit www.tcmevents.org, www.facebook.com/TwinCitiesInMotion, and follow us on Twitter @tcmarathon.