Uceny Coming Back to USA to Train Under Mahon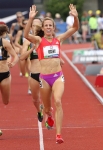 September 20, 2013
#1 ranked Miler in 2011 looks for top performance at Sunday's NYRR Fifth Avenue Mile
By Chris Lotsbom, Race Results Weekly
NEW YORK -- American miler Morgan Uceny is on the move once again. The 28-year-old 2012 Olympian arrived at JFK Airport last night carrying extra luggage, knowing that she would not be returning to her former training base in Loughborough, England. After Sunday's NYRR Fifth Avenue Mile presented by Nissan, Uceny will go back home to Indiana for a bit of vacation, not knowing exactly where her next training base will be.
"When I came over here [to New York] I had my life packed with me," Uceny told Race Results Weekly, speaking at the New York Road Runner offices today. "We're not exactly sure where we'll be settling down yet or where base is."
Earlier today, British Athletics announced in a press release that Uceny's coach, Terrence Mahon, would be leaving his position as Lead Endurance Coach for Great Britain. Since November of 2012, Uceny had been based in Loughborough, having followed Mahon from the Mammoth Track Club to Britain last year. Now, less than twelve months after moving to the United Kingdom, Uceny and her teammates -- Anna Willard and Jen Rhines -- are coming back to train in America.
Continue reading at: http://pro.runnerspace.com