Uceny in Search of Career-Defining Success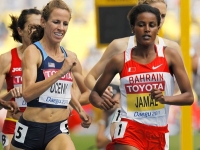 May 31, 2013
By IAAF
Two of the current stars of U.S. athletics are 1500m runners: Jenny Simpson, showing the form that brought her IAAF World Championships gold in 2011, and Mary Cain, a precocious 17-year-old who set an American junior record of 4:04.62.
Perhaps forgotten is that nine months ago, someone else was on the verge of becoming the first U.S. woman to win an Olympic medal at 1500m: Morgan Uceny.
"I even thought to myself, 'I AM getting a medal'," she wrote on her Facebook page.
As she approached the bell lap in London, Uceny was within 60 seconds of achieving a lifelong goal. She was in striking position, just off the rail, near the front, unimpeded, running freely.
Instead, calamity ended all that. She was tripped from behind and fell. As runners sped away, she knelt on the track, head down, sobbing. She remained there well past the end of the race.
Continue reading at: iaaf.org