UW coach Andy Powell produces sub-4 minute Milers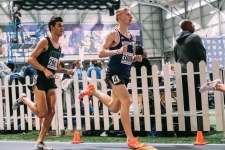 February 16, 2020
"My favorite thing to do is coach someone to break it for the first time. It's just a barrier that everyone wants to try and achieve. I think each one is a special, sacred thing."
By Matt Calkins, Seattle Times columnist
There's an exclusive club in Seattle that doesn't care how rich or famous you are.
You can't bribe the bouncer. Sweet-talk is irrelevant. The only way past the velvet rope is on-the-brink-of-vomit pain.
We're talking about a fraternity of folks who have run the Mile in under 4 minutes — a once thought impossible endeavor. And few in the country can churn them out like University of Washington track & field coach Andy Powell.
There have been a bevy of benchmarks in the track & field world that men and women have pursued, but it's hard to think that any carried the prestige of the sub-4 minute Mile. Not the sub-10-second 100-meter dash. Not the eight-foot high jump. Nothing like those grueling 5,280 feet.
Roger Bannister became an international sensation when he finally broke the mythical barrier in 1954, and though hundreds have done the same since, those 240 seconds are still hallowed in the running game.
"My favorite thing to do is coach someone to break it for the first time," Powell said. "It's just a barrier that everyone wants to try and achieve. I think each one is a special, sacred thing."
Two weeks ago, at the UW Invitational, two Huskies broke the mark for the first time. The first was freshman Sam Tanner, who did it in 3:59.01, and the second was Dustin Nading, who did it in 3:59.77.
Nading came to UW for graduate school in physical therapy and began the season as a student manager for the track team. But now he's part of that rarefied company that specializes in speed and suffering.
At the UW Invitational, he dove at the finish line and didn't know if he'd made it until he looked up at the scoreboard and saw the time.
"People were asking me if I was OK, and I'm like, 'I just gotta see the clock,'" Nading said. "I'll let you know if it was all worth it in a second."
It was. And Saturday at the Husky Classic, Nading went even lower, posting a time of 3:59.25.
Combine the likes of Powell and the Dempsey Indoor Center, and these are the kind of results you should expect. This season, Dempsey produced the 200th sub-4 minute Mile in the history of the facility. Heading into this weekend's Husky Classic, there had been 206 sub-4s at Dempsey, and Powell had actively coached 29 of them. Five more made it Saturday.
Continue reading at: seattletimes.com
U.S. first sub-4 history HERE.