When it comes to running, less is more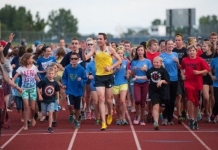 February 03, 2015
A Danish health study has concluded that light and moderate runners have lower mortality than sedentary non-runners, whereas strenuous runners have a mortality rate not statistically different from that of the sedentary group.
By Monte Morin, Los Angeles Times
Hey, fitness junkies, here's something to ponder the next time you lace up your athletic shoes for that long, heart-pounding run: A Danish study recently concluded that high-intensity, high-mileage joggers die at the same rate as channel-surfing couch potatoes.
The study, published Monday in the Journal of the American College of Cardiology, is the latest to confront the controversial topic of what constitutes too much exercise.
Although previous research has found that physically active people have at least a 30% lower risk of death compared with inactive people, the ideal "dose" of exercise remains uncertain.
Noting that the most famous - and perhaps apocryphal - case of physically overdoing it involved the Athenian messenger Pheidippides, who dropped dead after running 26 miles from the battlefield of Marathon to shout the word "Nike!" or "victory," the researchers hypothesize that strenuous running can damage the heart over time.
"Long-term excessive exercise may be associated with coronary artery calcification, diastolic dysfunction and large artery wall stiffening," wrote lead study author Dr. Peter Schnohr of Copenhagen's Frederiksberg Hospital and his colleagues.
Continue reading at: www.latimes.com